John Cooley
Virtual Booth
Rehoboth based ceramic artist John Cooley has demonstrated his lifelong fascination with nature and wildlife by drawing and cartooning animals for as long as he can remember. After a ten year career with the Friends of the National Zoo and obtaining a Bachelor of Fine Arts from the University of Maryland he moved to Rehoboth Beach in 1999 to complete his Masters in Art Education at Salisbury University. He began his career as an art educator for Worcester County Public Schools in August of 2000.
In 2007, influenced by the joyful, spontaneous art of his students, he joined the Rehoboth Art League to take nighttime classes in ceramics. It was here that he began to explore various hand building and sculptural techniques that allowed him to create functional and decorative pieces that expressed a playful mood. After receiving  the Best Sculpture Award at the 2009 RAL Fine Art Exhibition, John decided to turn this new  pastime into part time income by participating in several local juried art festivals. He especially enjoys watching the reactions of the public as they enter his booth and the camaraderie with other artists. In 2016 he took early retirement from teaching and began selling his work full time. Today he participates  in twenty shows  a year.
TO PURCHASE
The work represented here is available for purchase by contacting Lynnette Newberry. Please specify the artist and piece by name. Purchases made online through November 6 (by 4pm) will be available for pick up at the on campus Holiday Fair event, which will be held November 7 & 8 from 10am-4pm.  
Item 1
Frog Scallop Bowl 
4″ x 6″ x 6″
$50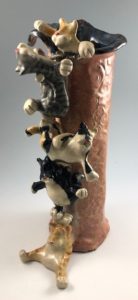 Item 2
Cat Vase
14″ x 5″ x 6″
$175
Item 3
Dog and Cat Platter 
8″ x 17″ x 6″
$275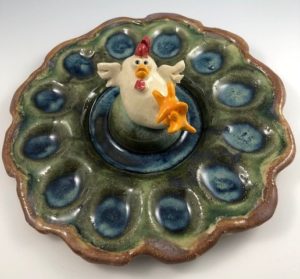 Item 4
Chicken Deviled Egg Plate
5″ x 9″ x 9″
$75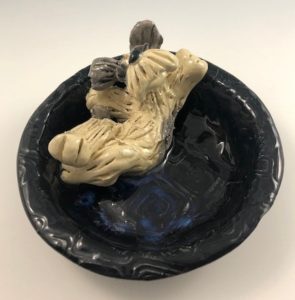 Item 5
Sheep Dog Bowl
5″ x 5″ x 5″
$48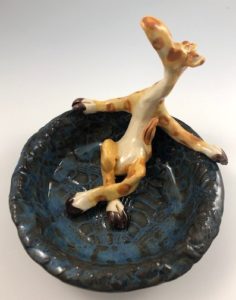 Item 6
Giraffe Bowl
7″ x 5″ x 5″
$48
Item 7
Bulldog Bowl
4″ x 5″ x 5″
$48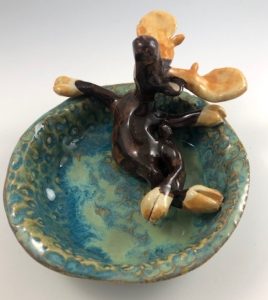 Item 8
Moose Bowl
5.5″ x 5″ x 5″
$48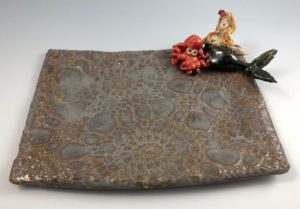 Item 9
Mermaid Octopus Tray
2.5″ x 6.5″ x 5″ 
$65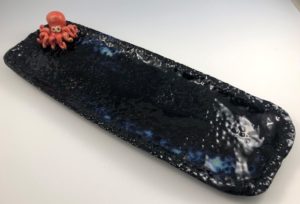 Item 10
Octopus Bread Tray
2″ x 14″ x 5″
$42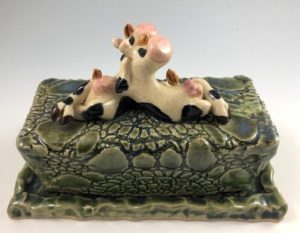 Item 11
Cow Covered Butter
4.5″ x 7″ x 3″
$70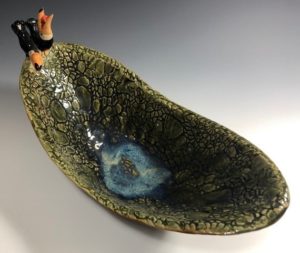 Item 12
Toucan Fruit Bowl
8″ x 11″ x 6″
$125
Item 13
Woodland Platter
4″ x 11″ x 6″ 
$115
Item 14
Pig Bread Tray
2″ x 5″ x 14″
$42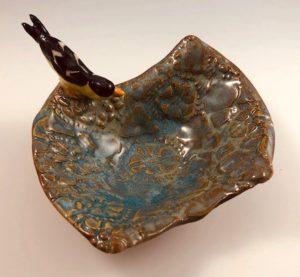 Item 15
Goldfinch Bowl
4″ x 6″ x 4″
$55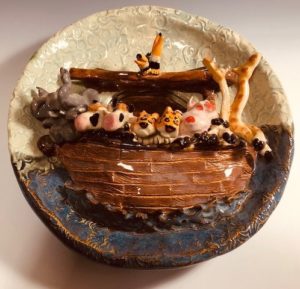 Item 16
Noah's Ark Mirror
10″ x 10″ x 10″
$225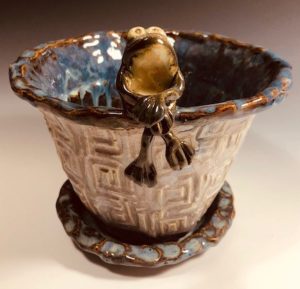 Item 17
Frog Planter
8″ x 7″ x 7″
SOLD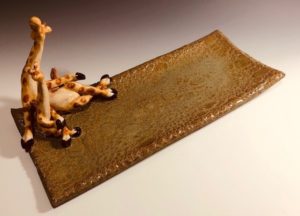 Item 18
Giraffe Baby Platter
7.5″ x 16″ x 6″
$135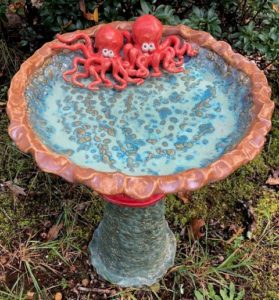 Item 19
Octopus Pair Birdbath
21″ x 12″ x 12″
$225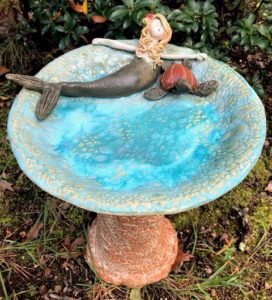 Item 20
Small Mermaid Turtle Birdbath
19″ x 11″ x 11″
$195