A Time, A Place
Juried Members' Showcase Exhibition
April 23, 2021 - July 25, 2021
Rehoboth Beach Municipal Building

Delivery of Work, shipped or dropped off: April 10 through April 18, 2021 to the Corkran Gallery, RAL
Opening Reception: There will not be an opening reception for this event due to Covid-19 and CDC guidelines
Pick-up of Unsold Works: July 26 through August 1, 2021 (at RAL Campus).


If you are interested in seeing the show, please make an appointment by calling Rehoboth City Hall at 302-227-4641
Theme:
The familiar phrase "a time and place for everything" is described as an appropriate and acceptable situation in which to do a thing, but it's not appropriate here and now.  But it can also mean just as it is…a time, a place.  It could be a time of day such as early morning and a place such as the beach.  The time is noon and the place a boat ride. It can also refer to a time in the past and a place that provokes a special memory.  RAL invites its members working in 2D to showcase their special time and place.
Exhibition Juror: Mark Harris
Mark Harris is a fine arts printmaker.  A poet and writer, he began printmaking in 2004.  He has his studio at Studios on Walnut, in Milton.  He has shown in juried shows at the Rehoboth Art League and in group and individual shows in Milford, Milton and Rehoboth Beach, Delaware, in a regional exhibit, "Courage Unmasked," and in Port-au-Prince, Haiti. In 2014 he was Artist-in-Residence and visiting art instructor at the Ecole National des Arts, in Port-au-Prince, Haiti.  In 2018 he was in a Printmaking  Residency at the Arquetopia Foundation, in Puebla, Mexico with concentration on printmaking arts as instruments of social change.   He has studied with other printmakers in Delaware and Mexico.  
Image Credit:  "Artist" Studio," oil on panel, by John Schisler
Congratulations to the following juried artists:
Patricia Fecko, Annie Gudis, Sue Jordon, Ruth Keipp, James Luciana, Dave Magyar, Melissa May, Jane McElvany-Coonce, Jeanne Mulligan, Marjorie Norris, Volha Panco, Jeffrey Riddle, Gary Schwartz, Maureen Wheatley.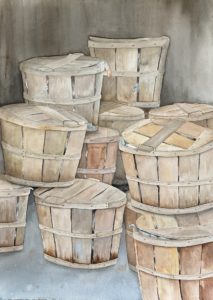 Bushels of Crabs
watercolor
$325
30″ x 20″
Patricia Fecko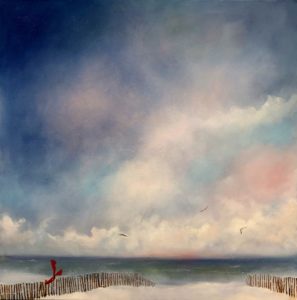 Winter Time
oil
$3,000
36″ x 36″
Annie Gudis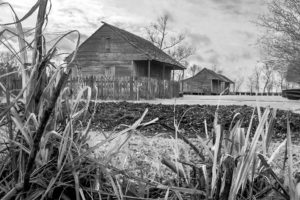 Behind Beyond
archival digital print
$125
11″ x 14″
Sue Jordan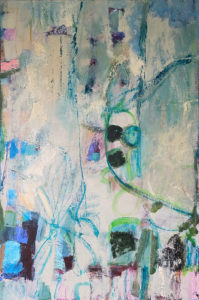 Garden in the Mist
acrylic
$1,200
36″ x 24″
Ruth Keipp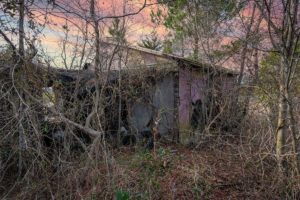 Abandoned Pink House Rte 23 Harbeson (Dusk)
archival digital print
$400
11″ x 17″
James Luciana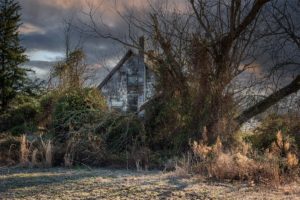 Abandoned House Rte 23 Harbeson
(Dusk)
archival digital print
$400
11″ x 17″
James Luciana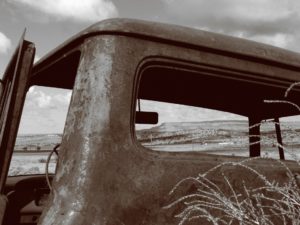 End of the Road I
archival digital print
$170
10″ x 13″
Dave Magyar

Girls, Ehrenburg, 1972
fiber
$300
36″ x 24″
Melissa May

Old Blue Boat
watercolor
$295
14″ x 11″
Jane McElvany-Coonce

Rue Bonaparte
acrylic
$600
20″ x 16″
Jeanne Mulligan

The Sentinels I
acrylic
$800
24″ x 30″
Marjorie Norris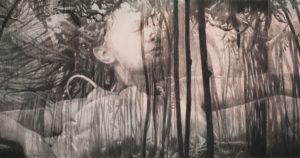 Breathe
mixed media
$1,200
14″ x 25″
Volha Panco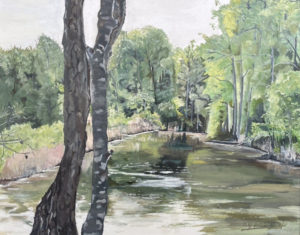 Holts Landing Idyll
oil
$475
16″ x 20″
Jeffrey Riddle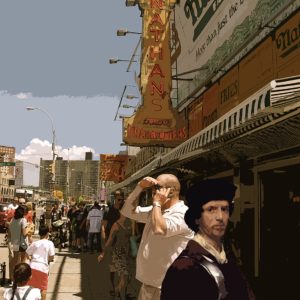 Vermeer at Nathan's
acrylic
$4,000
30″ x 30″
Gary Schwartz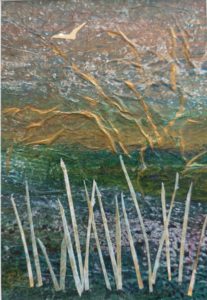 Marsh Grasses
collage
$125
12″ x 11″
Maureen Wheatley
Sunset Across from Kent Narrows
watercolor
$265
15″ x 19″
Maureen Wheatley