Deciphering Stratums: A View Beyond the Surface
Works by Moritz Kellerman and Katiana Jarbath Smith
May 6, 2022 - June 5, 2022
Ventures Gallery
Opening Reception: Friday, May 6, 2022 (5pm to 7pm).
Artists Statement
Self-reflection and awareness are heightened in our current times. Now more than ever, people are understanding that seeing others is not a simple matter of seeing color or gender or any other visual descriptor, but of taking the time to see other's experiences. People are more than their surface. The whole person is the complex culmination of layers of lived experiences. Paintings, a culmination of layers, are symbolic of this complexity. Further, how does individual history influence perspectives and interpretations about others or major events in society?
This two-person exhibition will feature two-dimensional paintings by Nicaragua born Jewish American painter, Moritz Kellerman and first generation Haitian American painter, Katiana Jarbath- Smith. Moritz's abstract pieces of stratums of color invite viewers to question their thoughts and feelings provoked by the title of the artwork. What colors beneath the surface are seen? How did the colors and mediums interact with each other to form what is seen? Katiana's pieces will invite viewers to question the lived experience of its subject. What experiences of the subject can be seen in the painting? How do the colors and composition help to reveal those experiences? 
Each pairing of the artists' works will invite viewers to interpret the history of a people, social constructs and even nations. What aspect(s) of the nation's history is presented? What are the layers that have led to that history? How might the artists' heritages have influenced their perspective of that history? How might the viewer's history influence their perspective of that history? In inviting viewers to delve beyond the surface of each piece, the artists aim to remind viewers of the value of exploring the complexity of individual and collective history.
Artists Bios
Moritz Kellerman 
Moritz was born in Nicaragua and spent his entire childhood there. It was there that he received his first book of artwork and where he discovered his love of painting. Kellerman's family came to the United States when he was a teen and was able to pursue his passion in art, eventually graduating from the School of the Art Institute in Chicago. his intricate works are brought to life with contrasting and harmonious colors and bold compositions. They are a history of complex layers achieved through the glazing process. Today, as an artist and educator, he continues to explore the layering of colors and continues to strive to equip his students to delve deeper into their own explorations of creating.
Katiana Jarbath Smith 
Though Katiana was born and raised in the United States, her upbringing was heavily influenced by her Haitian culture. "Creole was the first language spoken in our household. My identity is deeply rooted in my Haitian culture and influences me professionally and personally. Although conditions in Haiti can be difficult, there is a universal sense of pride, courage, and love that is rooted in the people. Those qualities are shared among the young and old of Haiti. My paintings show people in everyday life settings, living, moving and being."
Image Credit: (Left) "Joined Asunder," acrylic on canvas by Katiana Jarbath Smith. (Right) "Tolerance vs. Intolerance," oil on panel by Moritz Kellerman

Ayiti Cheri I (Haiti My Love)
Acrylic on canvas
$3,300
48″ x 36″
Katiana Jarbath Smith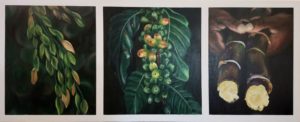 Cultivate the Land, Cultivate a People
Acrylic on canvas
$2,000
16″ x 40″
Katiana Jarbath Smith

Femme, Elle, Je, Reine
(Woman, She, I, Queen)
Acrylic on canvas
$2,000
36″ x 24″
Katiana Jarbath Smith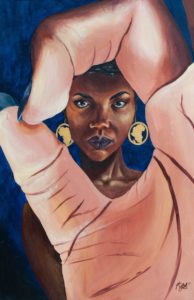 Introspective
Acrylic on canvas
$2,000
36″ x 24″
Katiana Jarbath Smith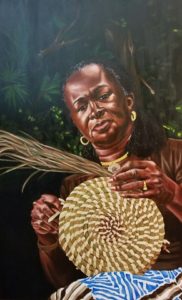 Joined Asunder
Acrylic on canvas
$3,000
48″ x 30″
Katiana Jarbath Smith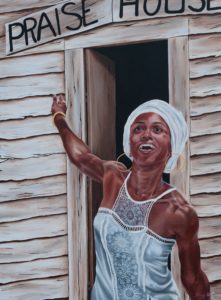 Jubilee
Acrylic on canvas
$3,300
48″ x 36″
Katiana Jarbath Smith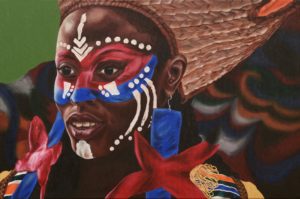 Karnaval Ayiti
(Haiti's Carnival)
Acrylic on canvas
$2,000
24″ x 36″
Katiana Jarbath Smith

Ode to Black Boys
Acrylic on canvas
$2,000
36″ x 24″
Katiana Jarbath Smith

Crackle in the Wind
Oil on Panel
$2,400
20″ x 16″
Moritz Kellerman

Distored Patriotism
Oil on Panel
$2,400
20″ x 16″
Moritz Kellerman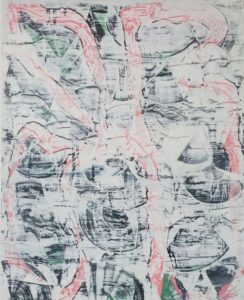 Gracie's Sound
Oil on Panel
$2,400
20″ x 16″
Moritz Kellerman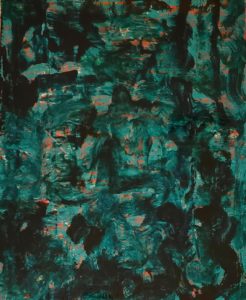 Her Eyes
Oil on Panel
$2,400
20″ x 16″
Moritz Kellerman

His Eyes
Oil on Panel
$600
10″ x 8″
Moritz Kellerman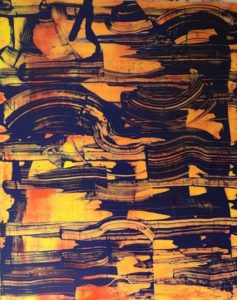 Swoosh
Oil on Panel
$2,400
20″ x 16″
Moritz Kellerman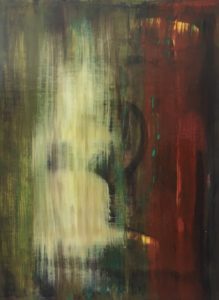 Tolerance vs. Intolerance
Oil on Panel
$1,200
20″ x 16″
Moritz Kellerman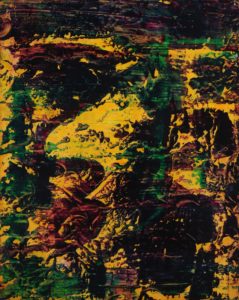 War Hammer
Oil on linen mounted on panel
$2,400
20″ x 16″
Moritz Kellerman