Pipes of Perception
Works by Tad Sare
April 2, 2021 - May 2, 2021
Tubbs Gallery
Virtual Gallery Talk: From the Artist, with Tad Sare, Saturday, April 3, 2021 (10am). Register for this free online conversation.
Artist Statement
'Pipes of Perception' is an installation that utilizes drawings and video to explore the relationship between image and sound. Viewers take an animated journey along drawings of interlocking pipes and conduits as sound effects weave alternating narratives of the goings-on inside them. The cyclic nature of the video allows viewers to contemplate the layering of sound and the repetition of imagery while evoking the unexpected, associations, and memory. 
Biography
Tad Sare is an experimental animator and educator currently living and working in Wilmington, Delaware. Tad uses the storytelling medium of animation to explore our understanding of perception, interpretation, and juxtaposition of sequential images. He employs hand-drawn techniques while collaging photographs, live action video, and sound elements digitally. His work borrows ideas, filmic devices and, tropes from espionage and thriller literature and cinema to examine the relationship between the perceived and the unknown of visual information. Tad is the Program Chair for Animation at Delaware College of Art & Design, as well as a teaching artist at the Philadelphia Museum of Art and Pennsylvania Academy of Fine Arts. 
Image: "Falling Sub" graphite on paper, (animation production still) 2019 by Tad Sare
Pipes of Perception (excerpt)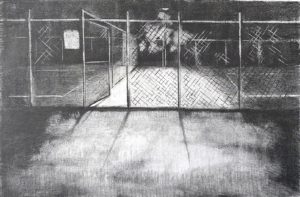 Background (Nighttime Tennis Court)
Graphite on paper
$200
13.5″ x 20″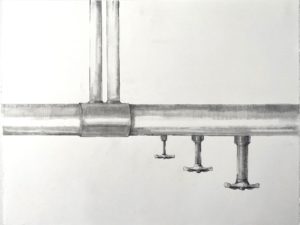 Pipe #10
Graphite on paper
$200
20″ x 26″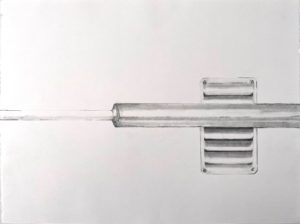 Pipe #12
Graphite on paper
$200
20″ x 26″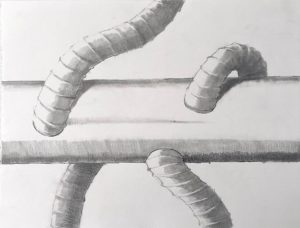 Pipe #15
Graphite on paper
$200
20″ x 26″

Pipe #18
Graphite on paper
$200
20″ x 26″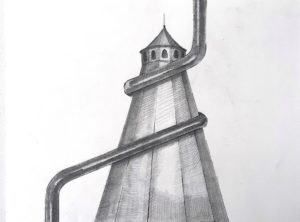 Pipe #19
Graphite on paper
$200
20″ x 26″