re-Interpreted
Fiber Art by Melissa May
July 23, 2021 - August 22, 2021
Homestead
Opening reception: Friday, July 23, 2021 (5-7pm).
Artist Statement
I have been an active artist for over forty years. Even during my years as a BFA candidate in painting, I challenged the boundaries of fine art media; fine art and craft; and two and three dimensional formats and have continued to work in a variety of materials and techniques. In 2016 I set out to learn traditional quilting and soon was determined to find a way to
bridge these skills with my art making. Developing my own technique, I discovered that there is a distinct approach within quilting called "art quilts" that is pictorial and expressive. For the past two years I have worked almost exclusively in fabric, often using my own earlier creations as a starting point for these new works. A selection of these quilts is represented in this exhibit. While my use of media has varied, I have returned again and again to imagery that remains personally meaningful, but has evolved, as I have experienced growth and change in my life. My approach has remained consistent. I am drawn to universal symbols and seek to express my personal connections to those. These images pertain to the human experience in the natural environment– ourselves, the earth, the cosmos — and the spirituality of all things. I focus on simplicity — what is the essence of a form or idea — and how to convey its innate, organic growth and energy. I have never questioned that art has the power to do so much more than show what something looks like – it can communicate ideas and emotions which for me are unable to be expressed in other ways. Art making provides a form of interpretation — a central concept in my professional work in the museum field. Here I apply that concept to myself and present a body of work that is a re-interpretation over time and across media. I hope that these quilts express this moment in my own life's journey but also resonate with the viewer in ways that are meaningful for them.
Bio
Melissa May is a Lewes artist who has been exhibiting at the Rehoboth Art League since 2019. Having earned a BFA in painting at the Art Academy of Cincinnati, she continued her education to include art history and museum studies and eventually a graduate degree from Eastern New Mexico University in Anthropology. Melissa's career included museum work across four states and a variety of types of institutions including an historic site, a state museum, a Native American museum and an art organization. She currently is the Choptank Collections Manager, using that expertise to organize, protect and document RAL's permanent collection of art and artifacts. Her art has been widely exhibited across the United States and as far away as Australia. Others have described Melissa's work as, "organic, transformative, atavistic, manifesting female divinity, and evocative of the primal." Melissa was a juried Tamarack artist in West Virginia and is currently a member of the Rehoboth Art League and the Ocean Waves Quilt Guild in Delaware. She is also a member of the national organization SAQA – Studio Art Quilts Association.
Image: "The Great Escape," 2020, raw edge applique, paint, hand embroidery, free motion quilting by Melissa May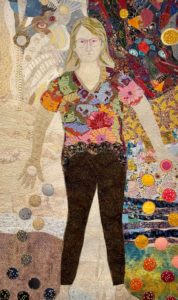 The Creative Process
Raw edge applique, paint, colored pencil, tulle,
free motion quilting
2020
$900
40 x 60

Grief and Growth
Raw edge applique, tulle, free motion quilting
2020
$750
17.5 x 24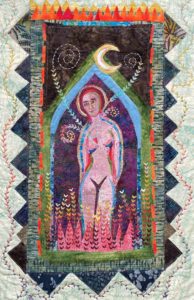 Inside Out
Raw edge applique, paint, hand embroidery,
free motion quilting
2020
$750
17 x 26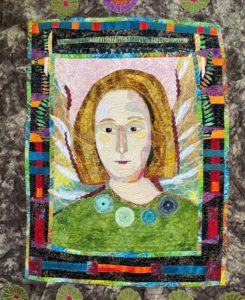 Growing My Wings
Raw edge applique, feathers, tulle, free motion quilting
2020
$500
28 x 33.5

House Angel
Raw edge applique, paint, colored pencil,
free motion quilting
2020
$300
20.5 x 27.5

After the Rain
Raw edge applique, free motion quilting
2020
$300
19 x 15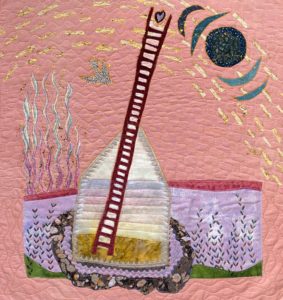 The Great Escape
Raw edge applique, paint, hand embroidery,
free motion quilting
2020
$500
20.5 x 21.5

Home: Coming and Going
Raw edge applique, free motion quilting
2020
$300
19.5 x 15.5

Bloom Where You Are Planted
Raw edge applique, free motion quilting
2020
$300
27 x 24
Spring
Raw edge applique, free motion quilting
2020
$300
24 x 20.5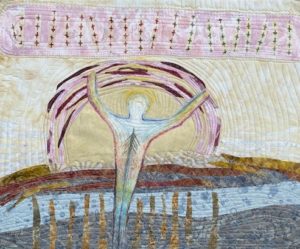 The Rainbow Within
Raw edge applique, paint, colored pencil,
free motion quilting
2020
$750
17.5 x 24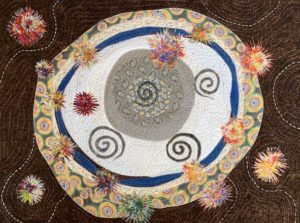 Formation
Raw edge applique, hand embroidery
free motion quilting
2020
$750
17.5 x 24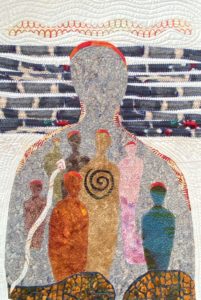 Humanity
Raw edge applique, free motion quilting
2020
$500
20.5 x 30
Masks
Raw edge applique, free motion quilting
2020
$500
31.5 x 20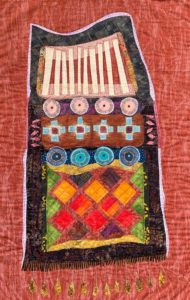 Where the Treasure Is
Raw edge applique, paint, free motion quilting
2020
$500
19 x 29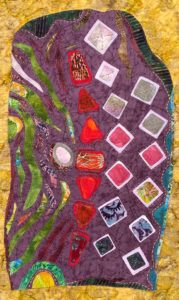 Mapping the Soul
Raw edge applique, hand embroidery,
free motion quilting
2020
$500
17 x 28
Above Below
Raw edge applique, hand embroidery,
free motion quilting
2019
$200
10.5 x 12.5 framed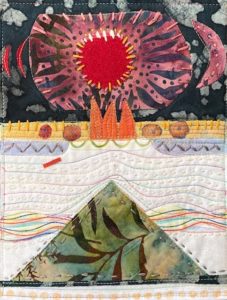 The Pyramid
Raw edge applique, hand embroidery,
free motion quilting
2019
$200
10.5 x 12.5 framed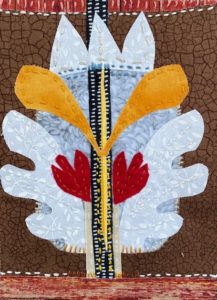 The Crown
Raw edge applique, hand embroidery,
free motion quilting
2019
$200
10.5 x 12.5 framed

Sea Pods
Raw edge applique, hand embroidery,
free motion quilting
2019
$200
10.5 x 12.5 framed

How it Grows
Raw edge applique, hand embroidery,
free motion quilting
2019
$200
10.5 x 12.5 framed
Sunrise
Raw edge applique, hand embroidery,
free motion quilting
2019
$200
10.5 x 12.5 framed