The Human Form, A Moment In Time
Works by Jeff Kibler
June 11, 2021 - July 18, 2021
Homestead
Opening Reception: Friday, June 11, 2021 (5 – 7pm)
Artist Statement
The paintings and drawings that are included in the show are the human form, a moment in time. Our expressions, our movements, I love how light falls on the figure and the face and captures the personality of that person. When I walk down the street I study the form of peoples faces their figure and their shape and imagine how I would draw them.
Biography
Jeff Kibler has more than 40 years experience in corporate art and editorial design with Fortune 500 companies, nonprofit organizations, higher education institutions, and museums. In addition to private commissions in portraiture and landscape creations, he lends his talent to freelancing in Washington, DC. Although skilled in commercial art, he prefers the discipline of fine art. His mediums of choice, charcoal and oils, has captured the nuances of the human form, a moment in time.
Jeff was born and raised in the Jamestown, New York and received his formal education at the Art Institute of Pittsburgh. Under the classical tutelage of the Corcoran College of Art & Design, Winter Palace Studios in Washington, DC and a workshop at the Russian Academy of Art in St. Petersburg Russia is seminal in his art.
Image: "Ballet Break"  Charcoal on paper by Jeff Kibler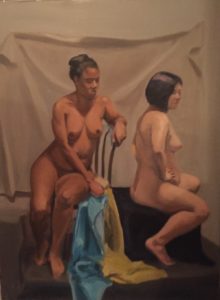 Women Posing
Oil on canvas
$5,500
48″ x 36″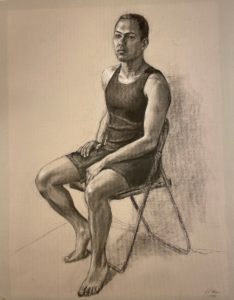 Man Sitting
Charcoal on paper
$950
25.5″ x 19.5″

Ballet Break
Charcoal on paper
$950
25.5″ x 19.5″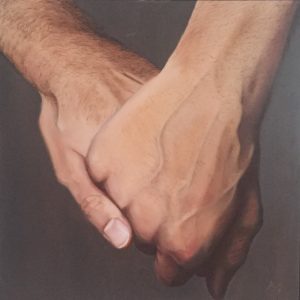 Man with Man
Oil on canvas
$6,000
36″ x 36″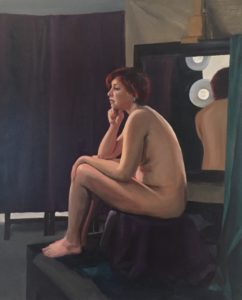 Female Reflections 2
Oil on canvas
$4,900
30″ x 24″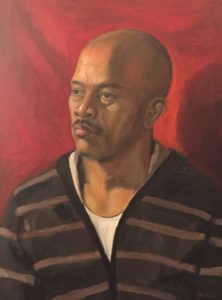 Man on Red
Oil on canvas
$1,350
24″ x 18″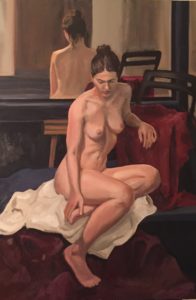 Female Nude Reflections 1
Oil on canvas
$4,900
36″ x 24″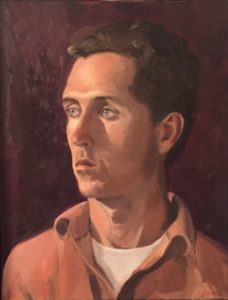 Blue Eyes
Oil on canvas
$1,125
18″ x 14″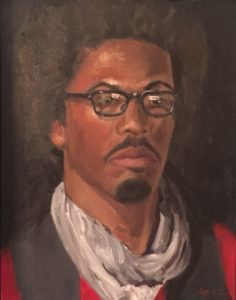 Man with Scarf
Oil on canvas
$1,125
14″ x 11″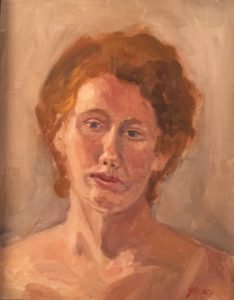 Redhead
Oil on canvas
$985
14″ x 11″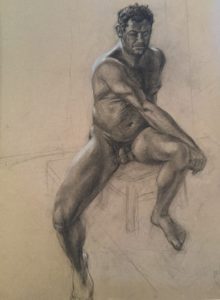 Male Nude Frontal
Charcoal on paper
$950
25.5″ x 19.5″
What's Next
Charcoal on paper
$950
25.5″ x 19.5″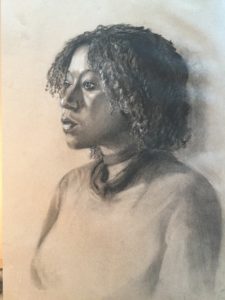 Young Woman Thinking
Charcoal on paper
$850
24″ x 18″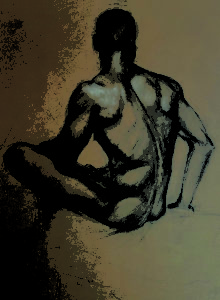 Male Nude Back
Charcoal on paper
$850
24″ x 18″
Female Nude Back
Charcoal on paper
$325
24″ x 18″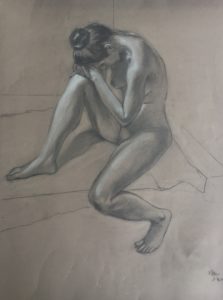 Female Nude
Charcoal on paper
$850
24″ x 18″

Woman Sitting
Charcoal on paper
$850
25.5″ x 19.5″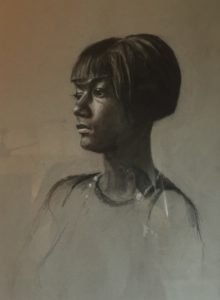 Woman with Bob
Charcoal on paper
$850
25.5″ x 19.5″