The Quiet Hour
Juried Members' Showcase Exhibition
September 24, 2021 - November 21, 2021
Rehoboth Beach Municipal Building

Opening Reception: September 24, 2021 (5-6pm) *Only non-alcoholic beverages and light hors d'oeuvres will be served.
Pick-up of Unsold Works: Tuesday, November 23  through Monday, November 29, 2021 (at RAL Campus).
Theme:
It's easy to be inspired by the natural beauty of the Delmarva coast. Shimmering sunrises and sunsets illuminate over reflective bodies of water, acres of marsh reeds and grasses swaying in ocean breezes, dramatic, towering cloud banks back-lit by sparkles of lightening. We see these instances of glory, pause for a slow breath, and take them into the mind – often getting lost in the thoughts that connect our psyches to mother nature. It's all at once serene, powerful, peaceful, intimidating. We take in the spectacular beauty of the moment and then drift back into our day.
Exhibition Juror: Martha Spak
Martha Spak is best known for her ethereal landscape paintings.  Though she is also an accomplished abstract and still life painter, she often draws inspiration from the beauty of the Delmarva coast.  She considers the traditional elements of a painting and looks beyond the optics of light and perspective to venture into the realms that reach an emotional level.  The Quiet Hour theme celebrates the serene, powerful, and peaceful beauty of our surroundings.
Martha's work is exhibited nationally and has appeared in national publications.  Her work is in the permanent collections of many corporations and private collections.  As a licensed artist, Martha's work is sold through home boutiques, and national chains including Pottery Barn and Williams Sonoma Home.  She studied academic art privately and has been painting for over twenty-five years.  In addition to her prolific artistic output, Martha opened the Martha Spak Gallery in Washington, DC in 2017 where she curates monthly exhibitions of invited artists. She is an art speaker and also taught intellectual property at Stanford University.  She has a degree in Journalism from the University of South Carolina and received an Intellectual Property Negotiation (Executive Certificate) from Harvard.
Congratulations to the juried artists:
Joanne Lamm, Carol Mullen, Marjorie Norris, Gilberto Rodriguez, Jerome Strum, Carrie Tucker.

Image Credit:  "Inlet," watercolor, by Marion Guthrie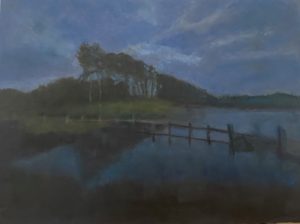 Covid: Nocturne Love Creek
Mixed Media
$550
Joanne Lamm
18″ x 24″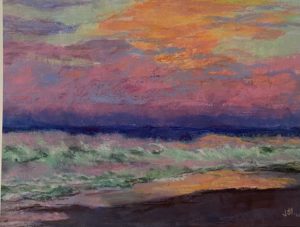 Rehoboth Sunset
Mixed Media
$250
Joanne Lamm
9″ x 12″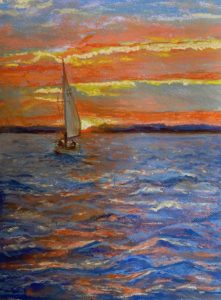 Solitude Sailing
Pastel
$550
Carol Mullen
20″ x 16″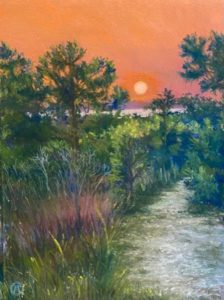 Wild Fire Sunset
Pastel
$550
Carol Mullen
20″ x 16″

Cottage Garden I
Acrylic 
$200
Marjorie Norris
10″ x 8″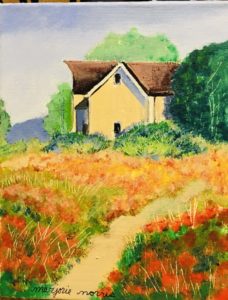 Cottage Garden II
Acrylic 
$200
Marjorie Norris
10″ x 8″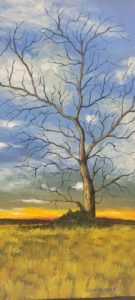 The Tree
Acrylic 
$1,500
Gilberto Rodriguez
34″ x 20″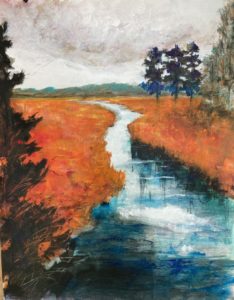 Deep Breath
Acrylic 
$425
Jerome Strum
23″ x 19″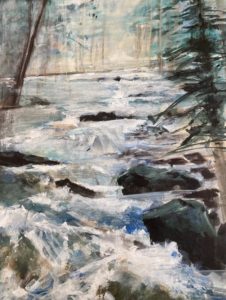 Rushin' River
Acrylic 
$375
Jerome Strum
21″ x 18″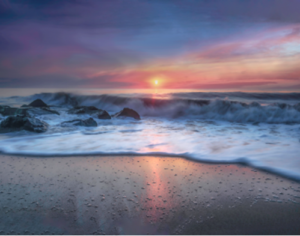 Beach
Archival Digital Print
$125
Cary Tucker
11″ x 14″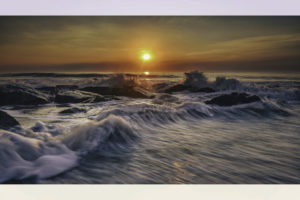 Cape Henlopen Rocks
Archival Digital Print
$225
Cary Tucker
16″ x 24″