Endangered
Works by Kate Norris
August 28, 2020 - September 27, 2020
Homestead
Opening Reception: There will be no opening reception for this exhibition.  The public is invited to view the exhibition during regular gallery hours.
Exhibition brochure may be viewed here.
Artist Statement
Many of the world's largest and most visible species; bears, tigers, rhinoceroses, are simply being squeezed out of their habitats by encroaching human development and or poaching. Global warming has affected thousands of other species. I am seeking to exhibit a body of work at Rehoboth Art League that would focus on endangered species. My mixed media (wallpaper) collages are based on 16 – 19th century scientific illustrations, with a focused on human anatomy, birds and insects. I am aiming to combine my love of aesthetics and my devotion to education to produce a body of work that documents and educates the viewer on the plight of our planet's endangered species.
Biography
Kate Norris is a teaching artist from Baltimore, MD. Her current body of work gives homage to naturalists and illustrators from the sixteenth to nineteenth centuries. Norris' mixed media collages are made from tearing vintage and out of stock wallpaper and reconstructing the pieces in a new way, giving new meaning with a modern sensibility. Her collages open up conversations about process, techniques, and symbolic associations.
Norris graduated with a BA from Stanford University and earned her MFA at the School of Visual Arts in New York City. She has exhibited her work in San Francisco, New York City, Tampa, Tennessee, and Baltimore.
Image:  Tinkerbell, mixed media collage by Kate Norris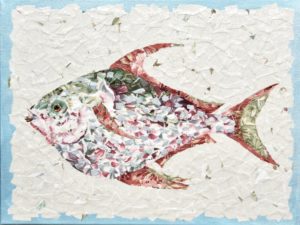 Eye Candy
wall paper and mixed media on canvas
$375
12″ x 16″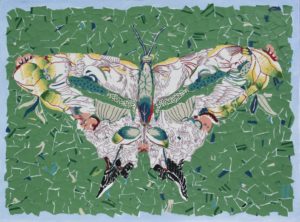 Green Goddess
wall paper and mixed media on canvas
$950
18″ x 24″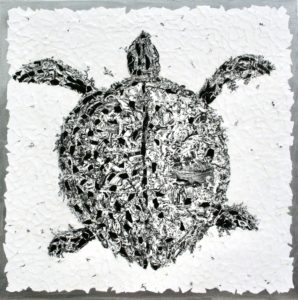 Calypso
wall paper and mixed media on canvas
$1150 (SOLD)
24″ x 24″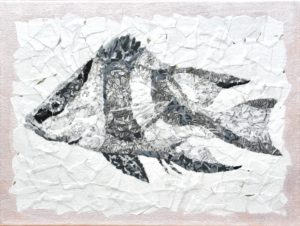 Fish 1 and Fish 2 (Diptych – left panel)
wall paper and mixed media on canvas
$650
each panel 9″ x 12″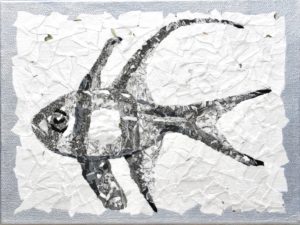 Fish 2 (Diptych – right panel"
9″ x 12″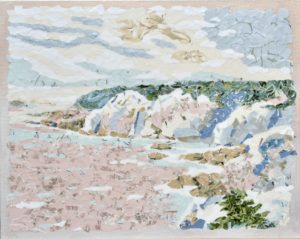 Reminiscence
wall paper and mixed media on canvas
$650
16″ x 20″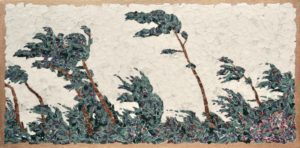 The Wind, (Diptych – left panel)
wall paper and mixed media on canvas
$1980
each panel 15″ x 30″
The Wind, (Diptych – right panel)
15″ x 30″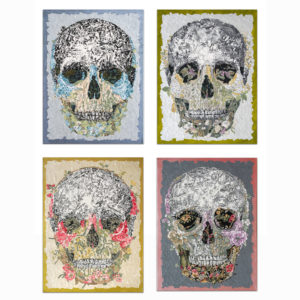 Seasons
(Quadriptych)
wall paper and mixed media on canvas
$3,900
each panel 24″ x 18″
Big Bird
wall paper and mixed media on canvas
$175
12″ x 9″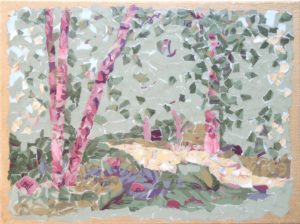 Lake Ave.
wall paper and mixed media on canvas
$275
9″ x 12″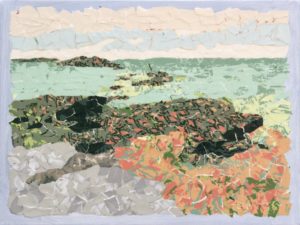 Claudia's Bermuda
wall paper and mixed media on canvas
$375
12″ x 16″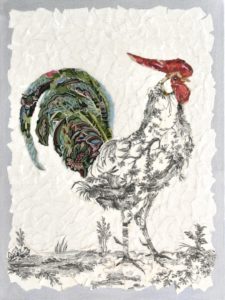 Cocky
wall paper and mixed media on canvas
16″ x 12″
$425
Zeppelin
wall paper and mixed media on canvas
$750
12″ x 36″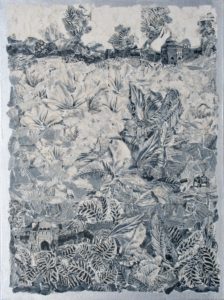 From Here to There
wall paper and mixed media on canvas
$850
24″ x 18″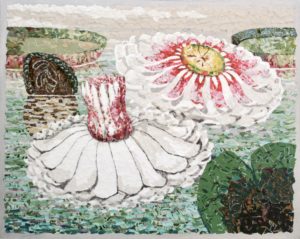 Pirouette
wall paper and mixed media on canvas
$1,850
24″ x 30″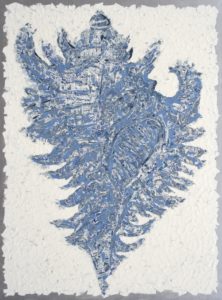 Elizabeth
wall paper and mixed media on canvas
$2,600
40″ x 30″
Painted Lady
wall paper and mixed media on canvas
$2,900
40″ x 30″