Expressions: Painting with Wood
Works by Robert Bruce Weston
October 2, 2020 - November 1, 2020
Ventures Gallery
Opening reception: Friday, October 2, 2020 (5-7pm). 
Biography
After 30 plus years in the cabinet making industry,   Weston created work he  designed himself and never did the same design twice, "Indeed I still refuse to duplicate anything I make in my new career, which I refer to as veneer painting because I don't see my work as marquetry. Marquetry is the craft of assembling small pieces of wood to duplicate pictures or floral patterns or the like. I believe my work is so much more than the craft of marquetry."  His process includes hanging pieces of veneer around his studio and waiting for their best use to come to him. If nothing happens in a reasonable length of time he might turn them over or rotate them 90 degrees until the idea comes to him. "Eventually we communicate and a project comes clear. I believe my work stands for itself. In quality of design, composition and technical craft I believe I am unique. I made fine furniture and libraries for the very wealthy for the last 20 years of my career and spent a good deal of that time perfecting my veneering techniques which has left me free in my retirement now to create new works without needing to learn the technical aspects."
Robert Bruce Weston was awarded a 2020 individual fellowship by the Delaware Division of the Arts.
Image:  Still Life with Forgotten Pear, wood veneer,  by Robert Bruce Weston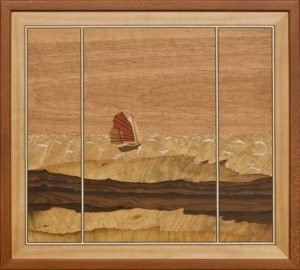 Tempest Tossed
Wood Vaneer
$700
25.5″ x 28″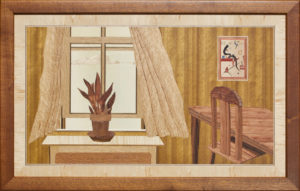 Still Life with Kandinsky
Wood Vaneer
$800
19.5″ x 31″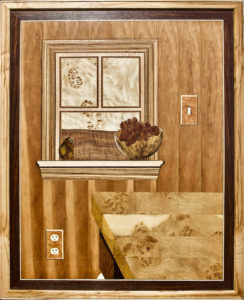 Still Life with Grapes and Forgotten Pear
Wood Vaneer
$950
41.5″ x 33.25″
Seascape Fantasy
Wood Vaneer
$750
27″ x 41.25″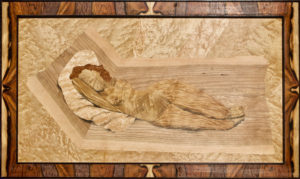 A Celebration of Modigliani in Myrtle
Wood Vaneer
$1,100
23″ x 39″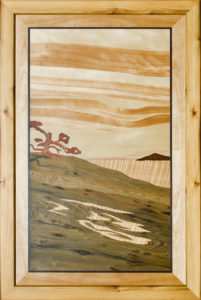 Love Creek Puddles
Wood Vaneer
$650
31.25″ x 20.5″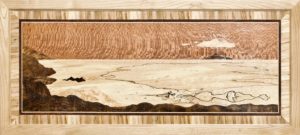 California Seascape #1
Wood Vaneer
$1,050
21.5″ x 48.5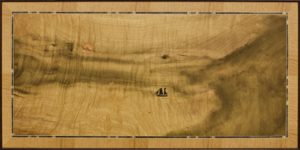 Peaceful Departure
Wood Vaneer
$1,200
22.25″ x 45.25″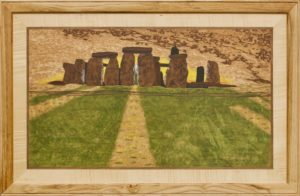 Stonehenge #2
Wood Vaneer
$925
20″ x 31″
Ominous Sailing
Wood Vaneer
$750
19″ x 26.5″

Seated Nude
Wood Vaneer
$650
30.5″ x 21″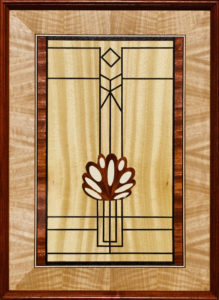 Wright #1
Wood Vaneer
$280
18.5″ x 13″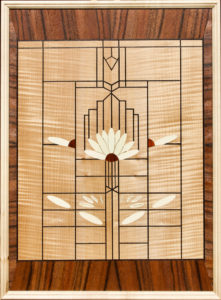 Wright #2
Wood Vaneer
$280
18.5″ x 13″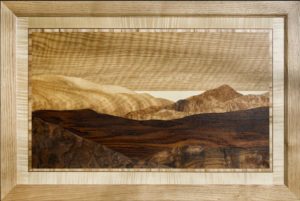 Santa Monica Hike
Wood Vaneer
$700
18.75″ x 31.75″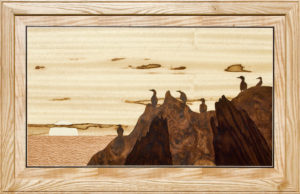 California Cormorants
Wood Vaneer
$725
19.75″ x 30.75″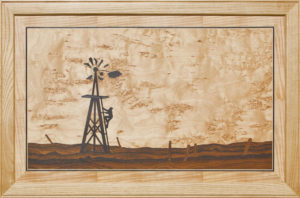 Little Reata
Wood Vaneer
$750
19.75 x 31.25″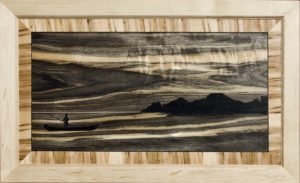 Afterglow
Wood Vaneer
(SOLD)
18.25″ x 32″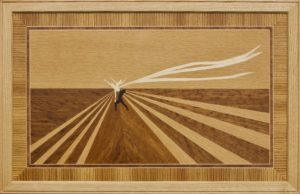 Pas de deux
Wood Vaneer
$800
20.5″ x 32″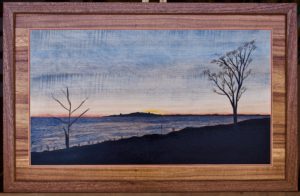 Assateague Afterglow
Wood Vaneer
(SOLD)
19.75″ x 30.5″
Urban Forest
Wood Vaneer
$750
20.5″ x 29.5″