Lindy Hop
Paintings of America's Most Beautiful Folk Dance by Seth Harris
October 2, 2020 - November 1, 2020
Corkran
Opening reception: Friday, October 2, 2020 (5-7pm).
Artist Statement
Considered one of America's most popular folk dance, the Lindy Hop was created in the 1930's through 50's by African American's at the Savoy ballroom in New York City and was then adopted by world. Weekly swing dances occur in cities of over 100 different countries worldwide. Everyone depicted in the paintings of this series were not hired models, only dancers from the social dance scene. The paintings in this exhibition will showcase Harris' skill for painting figurative realism.
Artist Bio

Seth Harris is an American oil painter. His figurative paintings often portray dancers, beach goers, and otherwise ordinary people in contemporary settings. His work is strongly influenced by the oil paintings of Rembrandt, Caravaggio, and Sargent. His use of heavy texture puts his style somewhere between realism and impressionism.
Born in Annapolis, MD in 1983, he received a Naval Architecture degree from NY Maritime in 2005. He lived on US flagged ships working as a merchant mariner until late 2010 when he became the artist in residence at a small Brooklyn art house. Over the next few years he gained membership in the Salmagundi Club and National Art League as an exhibiting artist.
In addition to painting, he is very active in the partner dance world. He choreographs for the award winning swing dance performance group the NY Sea Findyhoppers and regularly performs with other troupes. It is from this pool of inspiration that he drew from to create his Lindy Hop series.
Awards
2018 – Honorable Mention, The National Art League
2018 – Best in Show, The National Art League
2018 – Award of Merit, The Salmagundi Club
2018 – Award of Merit, The National Art League
2017 – Honorable Mention, The National Art League
2017 – Award of Merit, The National Art League
2016 – Honorable Mention, The Green Point Gallery
2016 – Jack Richeson & Co. Award, The National Art League
Image Credit:  "End of Song," oil on canvas by Seth Harris

Blues in the Great Hall
Oil on canvas
$13,500
48″ x 36″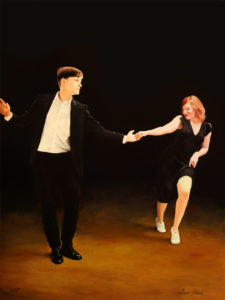 The Swing Out
Oil on canvas
$6,500
40″ x 30″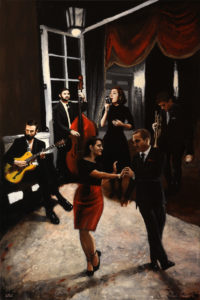 Cut a Rug at Ladurèe
Oil on canvas
$7,000
36″ x 24″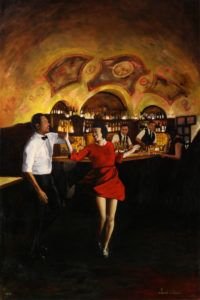 The Bar at Django
Oil on canvas
$7,000
36″ x 24″

End of Song
Oil on canvas
$7,000
24″ x 36″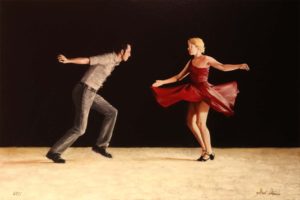 The Free Spin
Oil on canvas
$5,500
24″ x 36″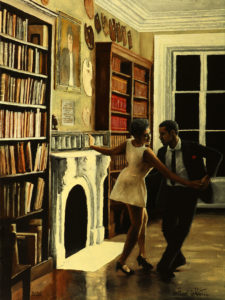 Lindy Hop at the Library
Oil on canvas
$3,750
24″ x 18″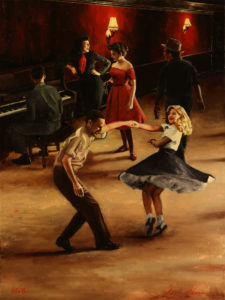 Jive Party at the Back Room
Oil on canvas
$3,750
24″ x 18″

Go go
Oil on canvas
$1,750
20″ x 16″
Turning Study
Charcoal on paper
$800
14″ x 11″

The Closed Come-Around
Oil on canvas
$1,500
16″ x 12″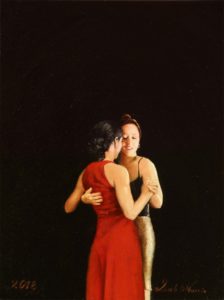 Follow Lead
Oil on canvas
$1,200
16″ x 12″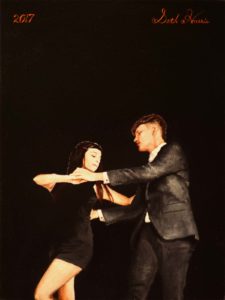 Lollies 2
Oil on canvas
$1,200
16″ x 12″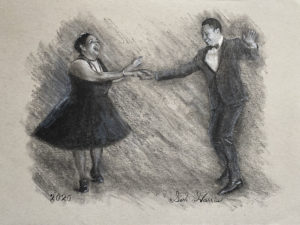 A Study of Lindy Hoppers
Oil on canvas
$800
9″ x 11″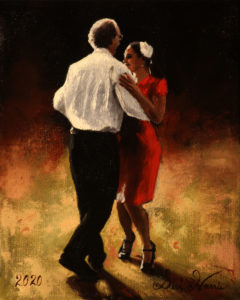 Charles and Laurel
Oil on canvas
$1,200
10″ x 8″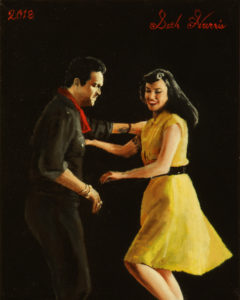 Rock N Roll
Oil on canvas
$1,000
10″ x 8″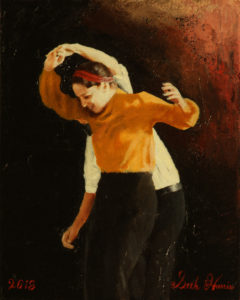 Black Nails
Oil on canvas
$800
10″ x 8″
Lollies
Oil on canvas
$800
10″ x 8″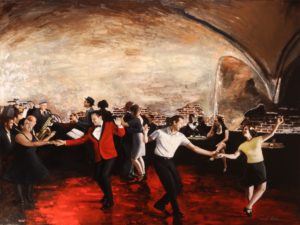 Jazz at the Django
Oil on canvas
$15,000
36″ x 48″