Member Artist of the Month
Hali MacLaren
July 1, 2020 - July 31, 2020
The Rehoboth Art League is pleased to announce Hali MacLaren as our featured artist for the month of July. Hali resides in West Chester, PA  and creates unique, one of kind jewelry.  She has been juried into the League's Jewelry Trunk Show each February and has participated in many member's showcases.
Artist Statement: 
I create handmade jewelry that is inspired by the sea, to spread awareness about its importance and beauty. Each piece is uniquely created and designed to last for generations. Growing up, I spent every summer in the water and sands of the Jersey coast. My extensive collection of found objects from the Atlantic Shoreline are my inspiration and secondary material. I create durable replicas of my favorite shells and set beach stones, sea glass and shell pieces directly in the silver to create unique charms. A portion of my profits are donated to various ocean conservation efforts each year.
My skills come from a BFA in Jewelry and a minor in Photography from The University of the Arts in 2014. After graduating, I built a studio in West Chester and began my HKM Jewelry line inspired by nautical themes. I create because I cannot stop, even when I am on the beach I will turn each shell into a ring in my mind. I believe I instill a part of myself into each and every piece, as every maker does, which makes it difficult to let them go at times. When a piece is complete, sometimes I still can hardly believe I have made it with my own hands. I strive for that unique connection with a new customer – who loves the sea as much as I do, and who shares my mission to be an ambassador for it. This is what inspires me to continue innovating and creating new designs. 
I have been teaching beginner jewelry classes at the Wayne Art Center and Artfusion 19464 for 3 years. I am currently on the board of the Haverford Guild of Craftsmen – the 16th local chapter of the Pennsylvania Guild of Craftsmen. I have won 'Best in Show' in the Swarthmore Art and Crafts Festival and 'Best in Crafts' at the Cape May Promenade Craft Show in 2018. I have been selling my work at local craft shows since 2015, from my hometown to the shore and last year was my first time exhibiting at the Rehoboth Art League Outdoor Show. You can find a new collection of work on my website on the 1st of every month. wwww.hkmjewelry.com 
Her work represented here is available for purchase by clicking the title of the jewelry and sending an inquiry or contact Nick Serratore.
Aqua Limpet Necklace
(aquamarine, sterling)
$250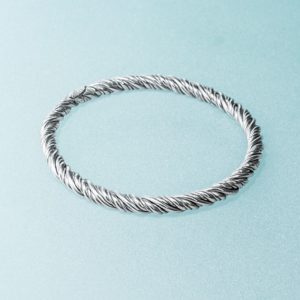 Braided Rope Bangle
(sterling)
$307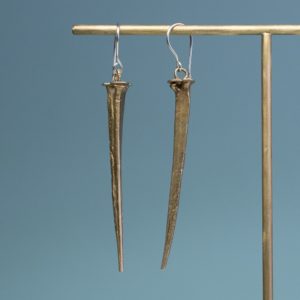 Bronze Crab Tail Earrings
(bronze, sterling)
$139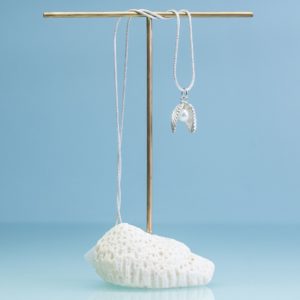 Cardita Pearl Necklace
(freshwater pearl, sterling)
$186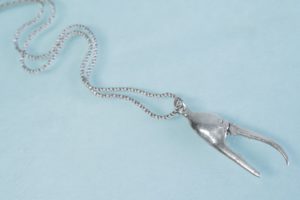 Fiddler Claw Necklace
(sterling)
$200
Hermit Claw Studs
(sterling)
$77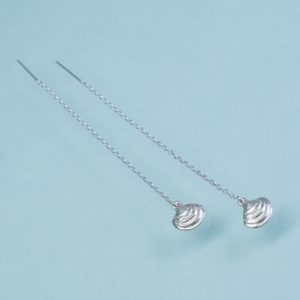 Little Neck Threaders
(sterling)
$80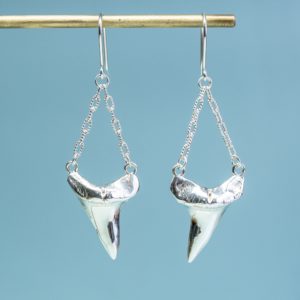 Mako Teeth Dangles
(sterling)
$175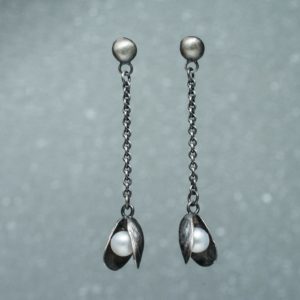 Mussel Pearl Drops
(freshwater pearl, sterling)
$182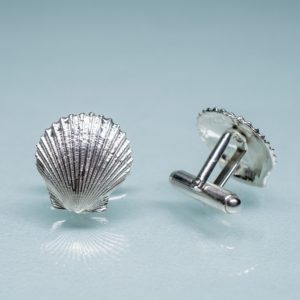 Scallop Cuff Links
(sterling)
$115
Seashell Charm Bracelet
(sterling)
$400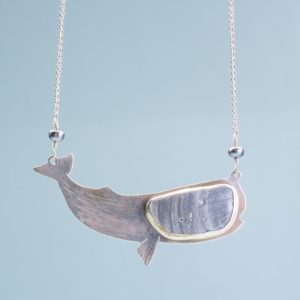 Sperm Whale Necklace
(clam shell, freshwater pearl, sterling)
$350
Whelk Core Necklace
(sterling)
$135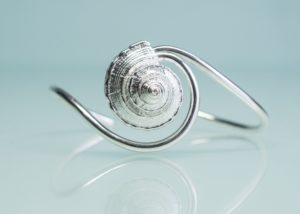 Whelk Wave Cuff
(sterling)
$187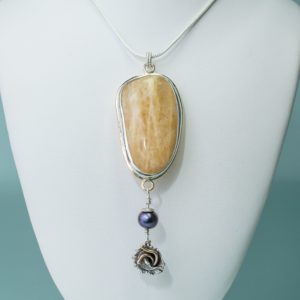 Yellow Pebble Necklace
(quartz beach pebble, pearl, sterling, 14k gold)
$500