Member Artist of the Month
Jane Pettit
August 1, 2020 - August 31, 2020
The Rehoboth Art League is pleased to announce mixed media artist, Jane Pettit, as our featured artist for the month of August. Jane resides in Bethesda and works in her studios in Rockville (Artist and Makers Studios) and Myersville.
Artist Statement:
Life has been expressing myself through art, inspired by people, nature and the bit of mad scientist I seem to have inherited from eccentric ancestors. After running a business for 20 years, I celebrate my life as an artist every day
Trained in both ancient and contemporary mosaic technique, curiosity and continual experimentation with form as well as materials means there's always something new in the studio. To achieve the bold statements I'm after, I use vivid colors, varied textures, reflective materials and unexpected juxtapositions. I strive for a sense of ordered chaos that can encourage contemplation and be as calming as it is exciting.  
An inclination to celebrate what's right in the world often adds a sense of humor and whimsy. Faces with attitude find their way into much of my 2D art.  Fish and fowl alike show personality when they emerge from the workbench!
Making my own sculptural substrates usually involves carving polystyrene and covering it with fiberglass and concrete to make an outdoor form that will stand up to the Vermont winters I loved as a child. I then mosaic the exterior with glass, stone, metal, shell and ceramic, much of it recycled.  Some is 24K gold Italian glass, some is from the Catoctin Creek on the farm and some is donated when a beloved platter falls off the shelf. 
Jane's art has been exhibited at galleries up and down the east coast.  Although most venues are currently closed, The Watergate Gallery in DC is open and welcoming visitors. She has taught classes at multiple venues in the DC area. Lately, although Covid has intervened, Jane has been teaching through internships and loving the company in the studio.
More art at: www.janepettit.com
The work represented here is available for purchase by clicking the title of the artwork and sending an inquiry or contact Nick Serratore.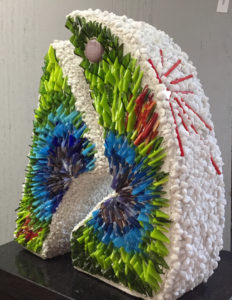 Wild Affinities
mixed media mosaic sculpture
$1,100
24 x 17 x 11

Sunrise, Sunset
outdoor/indoor mosaic sculpture
$795
27 x 26 x 11

Garden Sentinel
outdoor/indoor mixed media sculpture
$4,200
6′ x 48″ x 10″

Mermaid Fantasies
mixed media mosaic sculpture
$1,600
27 x 27 x 10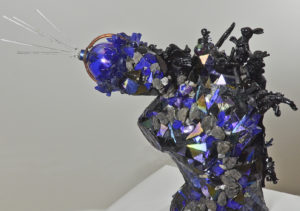 Dream Warrior
mixed media mosaic sculpture
$1,600
28 x 39 x 14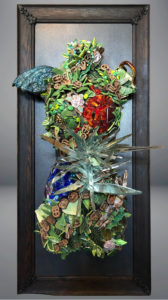 Grief, Fury, Solace
mixed media mosaic wall sculpture
$2,200
45 x 21 x 12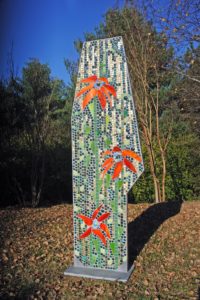 Muse II
(front and back)
indoor/outdoor mosaic sculpture
$5,200
6′ x 20″ x 12″

And Then She Flew
mixed media mosaic on silver leaf
$525
30 x 18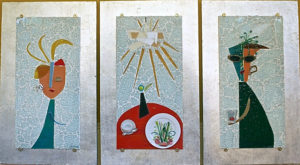 Ladies Who Lunch
mixed media mosaic triptych on silver leaf
triptych – 30 x 54 $1,200
individually – 30 x 18 $475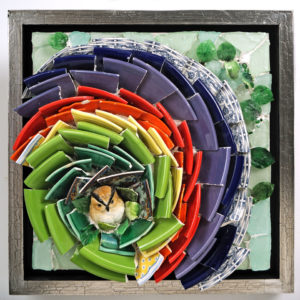 Old Dishes, New Tricks – Wise Choice
mixed media mosaic
$395
14 x 14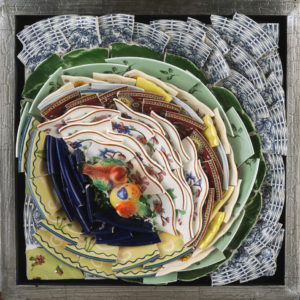 Old Dishes, New Tricks – Lovebirds
mixed media mosaic
$395
14 x 14