Member Artist of the Month
Nina Mickelsen
September 1, 2020 - September 30, 2020
The Rehoboth Art League is pleased to announce, Nina Mickelsen, as our featured artist for the month of September. 
"Nina Mickelsen – www.ninamickelsen.com – is a Lewes, DE based versatile, contemporary 2D artist working in acrylic silk screening as well as mixed media.  Her work has been called "progressive" and characterized by the Washington Post as "latter-day pop-art." As a Finland native, her artistic roots are in Scandinavian clean and colorful design. Equally comfortable working with realistic, graphic shapes as she is with abstract, slightly sculptural work, she is inspired by nature, coast and contemporary design."
The work represented here is available for purchase by contacting Nick Serratore.
Definitively a Beach Day!
Acrylic, silk screening ink and textures on canvas.  Framed in white floater frame, wood.
$1,800
31.25″ x 31.25″
Welcome to the Beach!
Acrylic, silk screening ink and textures on canvas.  Framed in white floater frame, wood.
$2,400
41″ x 41″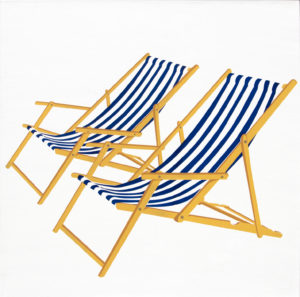 For You – Vintage Beach Chairs
Acrylic, silk screening ink and textures on canvas.  Framed in white floater frame, wood.
$2,200
41″ x 41″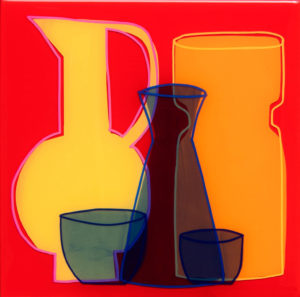 Nordic Housewares 2
Acrylic, silk screening ink embedded within layers of resin epoxy on wood board
$500
12″ x 12″ x 1.5″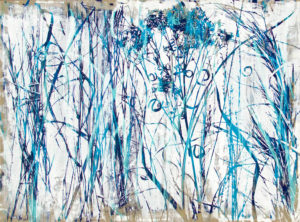 Dune Grass
Acrylic, silk screening ink and textures on canvas.  Framed in white floater frame, wood.
$2,000
30″ x 41″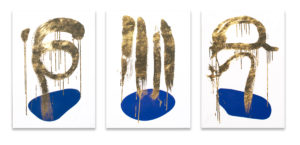 River Rocks in Cobalt
(triptych)
Acrylic, silk screening ink and 24K gold leaf on canvas. Framed in white floater frame.
$1,600
each panel 31″ x 21″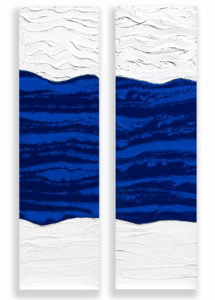 White Sands
(diptych)
Acrylic, resin epoxy and textures on
cradled wood board.
$2,300
each panel 50″ x 14″ x 1.5″