Reflections en Estambre
Work by Francisco Loza
October 2, 2020 - November 1, 2020
Tubbs Gallery
Opening reception: Friday, October 2, 2020 (5-7pm).  
Artist Statement
For this exhibition, Loza share's the various ARTE en ESTAMBRE pieces that capture the environment in his Arboles (Trees series); his love of sea-side communities (from La Sirena series); and mixed media artwork from his contemporary/abstract Hombre de las Estrellas (Man of the Stars) series.  Through his art, Loza wants to create opportunities for viewers of all ages to gain more nuanced understanding of Mexican cultural traditions; his reflections on our environment; his interpretations on Huichol spirituality; and contemporary themes of multicultural communities and families. Loza sees his work as a form of artistic diplomacy between the United States, Mexico, and beyond.
Artist Bio

Originally from Mexico and now based in Baltimore,  Francisco Loza creates Arte de Estambre, or pressed yarn art by working on wood surfaces that he covers in a combination of waxes (found only in Mexico) that he mixes together and uses as an adhesive base. Onto these waxed wooden bases, Loza intricately presses, cuts, and shapes yarn into original artwork of multiple colors, sizes, depths, and themes.  His work reflects a myriad of concepts including the environment, markets, sea-side communities, abstract, immigration, families, among others. Loza's original art also highlights his interpretations of Mexican cultural traditions and Huichol communities based on his first-hand experience of collaborating with Huichol artisans in Mexico for over twenty years. The artist uses mixed media with chaquira (small beaded pieces) that he embeds into his original yarn artwork. Using a technique that requires skill, patience, and creativity, Loza wants people to see textures and movement in his pieces. He has led workshops for students and teachers of all ages and skill levels in Mexico and the United States. His workshops are dynamic, and he makes connections between culture and art that evoke the "ah-ha" moment — when people can see up close as to how he creates his unique, profound artwork. Loza's pieces are featured at the American Visionary Art Museum, Migration Policy Institute (MPI) and the U.S. Department of State in Washington, DC.
Image: Transciendo, 2017, Arte en Estambre (pressed yarn) with chaquira (beaded pieces), 36 x 28.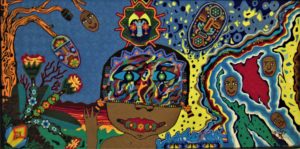 Caras Felices
(Happy Faces)
Pressed yarn with chaquira/beaded work
$6,300
24″ x 48″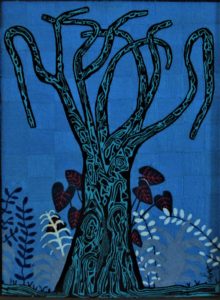 Arbol en Azul #2
Pressed yarn
$2,500
32″ x 24″
Arbol en Cafe #2
Pressed yarn
$850
16″ x 24″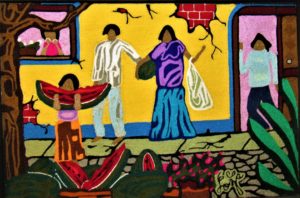 Vendedora de Sandias
(Watermelon Seller)
Pressed yarn
$550
12″ x 18″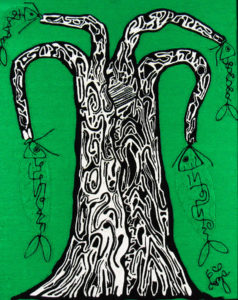 Mar y Tierra en Verde
Pressed yarn
$950
23″ x 18″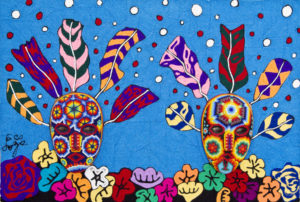 Mascaras de Carnaval
(Carnival Masks)
Pressed yarn with chaquira/beaded work
$975
16″ x 24″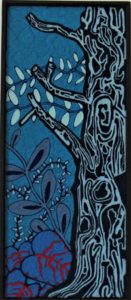 Arbol en Azul #1
Pressed yarn
$750
24″ x 10″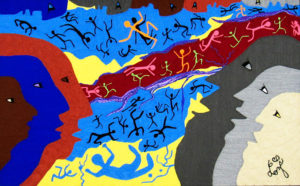 Diferentes Pensamientos
(Different Thoughts)
Pressed yarn
$4,300
38″ x 48″

Lucha Interna
(Internal Struggle)
Pressed yarn with chaquira/beaded work
$2,000
24″ x 24″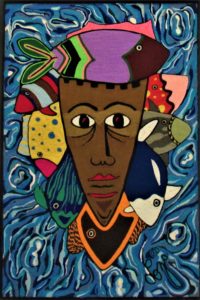 Peces en Mi Cabeza
(Fishes on my Head)
Pressed yarn
$830
24″ x 16″


Sirenas y Angeles
(Mermaids and Angels)
Pressed yarn with chaquira/beaded work
$5,300
19″ x 53″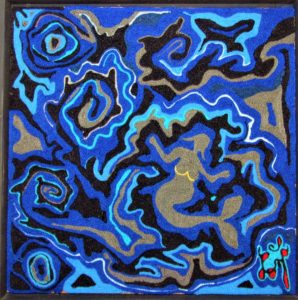 Sirena 3D
Pressed yarn
$450
12″ x 12″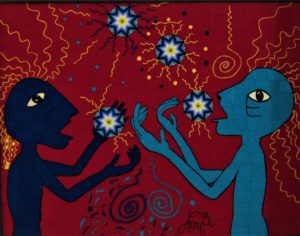 Trascendiendo
(Transcending)
Pressed yarn with chaquira/beaded work
$3,000
28″ x 36″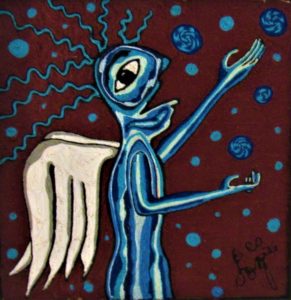 El Poeta
(The Poet)
Pressed yarn
$350
11″ x 12″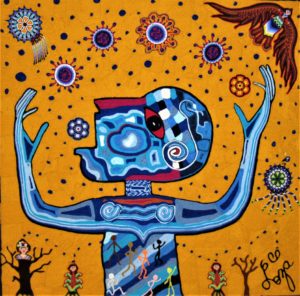 Confusion e Esperanza
(Confusion and Hope)
Pressed yarn with chaquira/beaded work
$2,900
24″ x 24″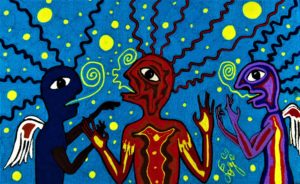 El Acuerdo
(The Agreement)
Pressed yarn
$800
12″ x 15″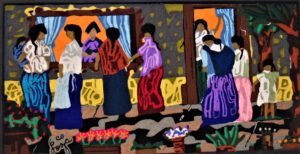 Las Co-Madres
(Best Friends)
Pressed yarn
$680
12″ x 24″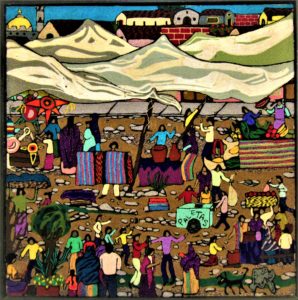 Tianguis del Pueblo
(Village Market)
Pressed yarn
$880
19″ x 19″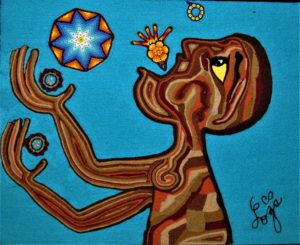 Comunion con el Universo
Pressed yarn with chaquira/beaded work
$850
15″ x 19″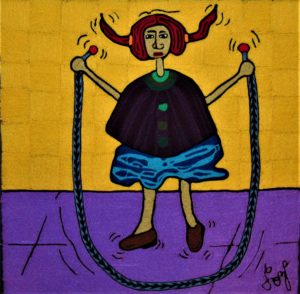 Saltando la Cuerda
(Jumping Rope)
Pressed yarn
$500
16″ x 16″

Arbol en Cafe #3
Pressed yarn
$750
25″ x 11″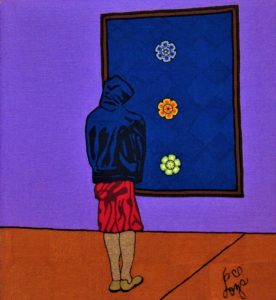 Cuadro Azul
(Reflection)
Pressed yarn
$1,800
24″ x 24″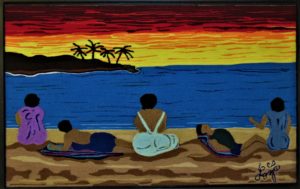 Tranquilidad
Pressed yarn
$800
15″ x 24″

Nuevo Mexico
Pressed yarn
$850
16″ x 24″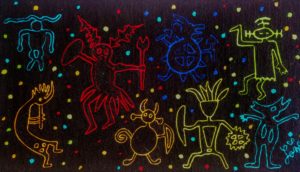 Espiritus de Nuevo Mexico
(Spirits of New Mexico 3D)
Pressed yarn
$720
12″ x 20″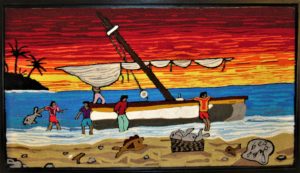 Atardecer en la Pesca
(Fishermans' Sunset)
Pressed yarn
$650
12″ x 21″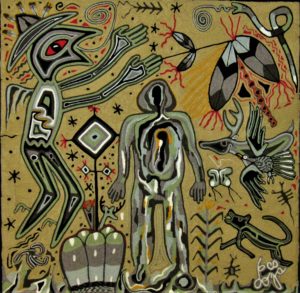 Ensenanza del Shaman Macario
(Teachings of Macario The Shaman)
Pressed yarn
$2,800
24″ x 24″

Las Ventanas
(Windows)
Pressed yarn
$890
24″ x 16″

Arbol en Azul #4
Pressed yarn
$400
12″ x 12″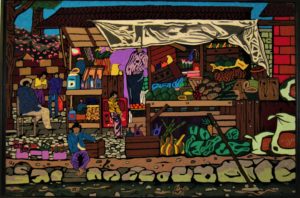 Despediendo del Abuelo
(Saying Goodbye to Grandfather)
Pressed yarn
$4,600
24″ x 36″
Velero en Chacala
(Sailing in Chacala)
Pressed yarn
$350
8″ x 16″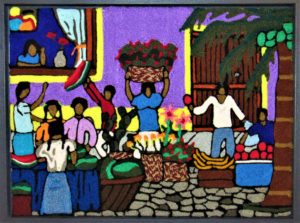 Vendedores Domingo
(Sunday Market Sellers)
Pressed yarn
$250
8.5″ x 12″


La Banda
(The Band)
Pressed yarn
$285
4″ x 18″