She the People
Works by Linda Hill
November 13, 2020 - December 13, 2020
Tubbs Gallery
Artist Statement
Inspired by the Centennial of the 19th Amendment in 2020, I wanted to design a show that would reflect, in part, the voting right struggles of the early 20th century.  My research into the Suffragettes/Suffragists movements here, and in England, left me in awe and admiration for the dogged determination, courage, tenacity of the women who participated, and the sometimes amusing, sometimes vehement opposition they experienced.  Hopefully, in the midst of this 100 year celebration, some of my art pieces serve to suggest that the new term, "Resisterhood," may not be as new as we thought; and that, as women, we should not take our vote for granted.  In researching some of the more prominent women of this early enfranchisement movement, I found so many faces compelling, so full of spirit and strength of character, that it was impossible to NOT want to paint them all.  I am not a "fast" painter, so I had to choose wisely and economically.  The remainder of the work is dedicated to some of the many facets, ages, and enthusiasms of today's women…portraits of women engaged in the world of today.
Artwork Raffle
The Rehoboth Art League is pleased to offer a raffle of exhibiting artist Linda Hill's piece, Anna Graham in a Century of Struggle, which the artist has generously donated for our fundraising efforts. This mixed media collage is mounted on wood and finished with epoxy resin, and was inspired by the 2020 centennial anniversary of the 19th Amendment. Raffle tickets are available for purchase and the piece is on view in the Tubbs Gallery. The winning ticket for Hill's piece will be drawn December 14 at 4pm.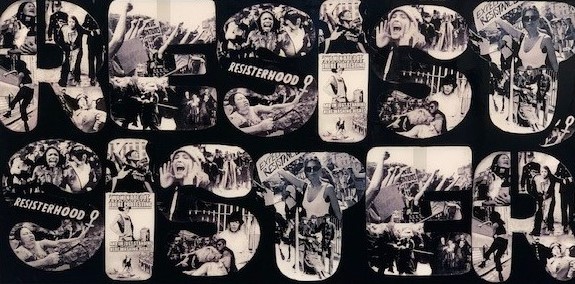 Biography
Linda Lockard Hill was born in Los Angeles, but grew up in Sioux City, Iowa where her parents instilled in her a deep appreciation of music (voice and piano) and dance.  Living in Pennsylvania in 1970, when the traditionally all boys boarding school where her husband taught began to admit girls, she introduced a fledgling dance program.  A short time later she began to choreograph the school's Broadway musicals, as well as those in neighboring high schools and nearby Shippensburg University.  She simultaneously opened and operated a ballet studio in Mercersburg, PA and then a large second studio in Chambersburg, PA.  Still later, Linda commuted daily (180 miles) to Washington, DC where she obtained a Master of Arts Degree in Performing Arts-Dance from American University.
Linda's love of painting broadened and took a quantum leap forward after moving to Rehoboth Beach in 2015. She worked at first in stained glass and then in acrylics – mostly family portraits – just as her mother had done two generations ago.  Her painting "Lost Horizons" was awarded Best in Show for the Rehoboth Art League's 81st Annual Member's Fine Art Exhibition in 2019.
Image: "Sojourner Ruth, Rockstar" oil, by Linda Hill.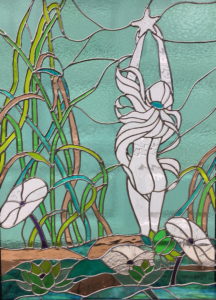 Ad Astra Per Aspera
Stained glass
$8,500
36 x 26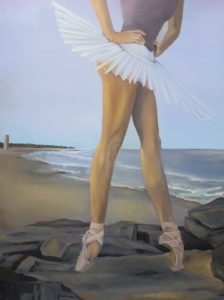 Stella, On the Rocks, with a Twist
Oil on canvas
$4,000
40″ x 30″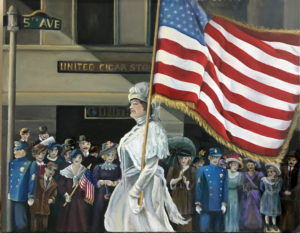 She's a Grand Old Flag
Oil on canvas
$3,600
24″ x 30″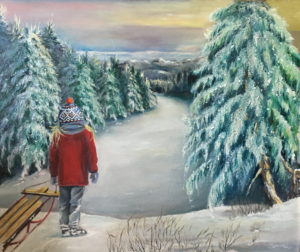 The Hero's Journey
Oil on linen
$1,800
20″ x 24″

Street Goddesses All
Oil on linen
$1,800
18″ x 24″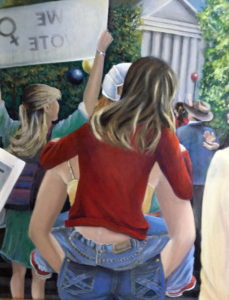 Resisterhood
Oil on linen
$1,400
20″ x 16″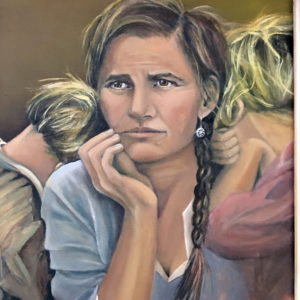 Second Look in Cherokee Red
Oil on Linen
$1,800
20″ x 16″

Sojourner Truth: Polestar
Oil on linen
$1,800
20″ x 16″
Sojourner Ruth: Rockstar
Oil on canvas
$1,800
20″ x 16″
Audacity, 1862: Victoria Woodhull
Oil on linen
$1,800
20″ x 16″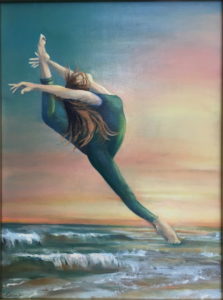 Aurora's Morning Stretch
Oil on canvas
$800
16″ x 12″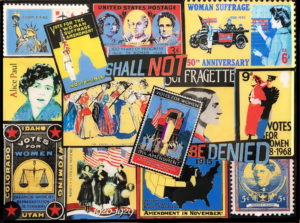 The 19th Shall Not Be Denied
Digital Collage Print
$600
18″ x 24″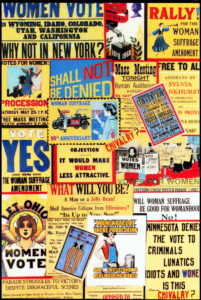 The 19th Shall Not Be Denied
Digital Collage Print
$800
30″ x 20″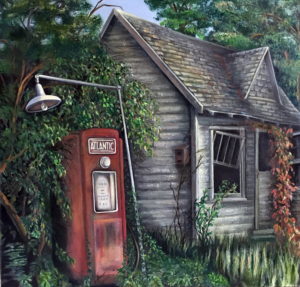 Past Gas: Atlantic Dowager in Decline
Oil on canvas
$4,000
36″ x 36″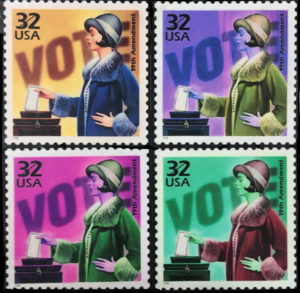 Legacy of Resistance
Mixed media
$250
16″ x 16″
Seismic Stella, Feeling Gaia's Heartbeat
Oil on Canvas
$4,500
30″ x 40″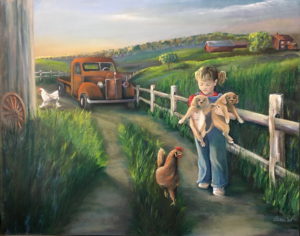 Love a First Light
Oil on canvas
$2,200
24″ x 30″