Kitchen Stories
Landscapes in a Professional Kitchen by Susan Callahan
April 1, 2022 - May 1, 2022
Corkran Gallery
Opening reception: Friday, April 1, 2022 (5-7pm).
Artist Statement
"Life as a chef is imagined as creative and glamorous because we see the life of many celebrities chefs on TV and hosting great parties or even cruises. This series is a love letter to the cooks who work everyday in kitchen's, it tells the story of women and men who make thousands of meals for millions of people everyday and we never know who they are. The work is digitally printed photographs from my kitchen, as well as a few friends who work as chefs. The work is printed onto cotton, then hand painted and machine stitched. The series starts early in the day in a kitchen and tells of the daily activities of working on the production line. The series is primarily black and white to resonate with the stainless steel landscape of a commercial kitchen."
"I have worked as a professional chef for 30 years. I love the life of the kitchen. I am a teacher who encourages the best from people. As well as offers warning that only the best will do- we are feeding people. I am an artist who work primarily in textiles. Textiles and food are very similar, you cut them up, apply some technique or mix them together and get something wonderful.  
Image credit: "Saucing the Plate," digital print on cotton fabric, hand painted, machine and hand stitched, 40″ x 38″ by Susan Callahan.
*All works are digital photos printed on cotton.  Hand painted, machine and hand stitched.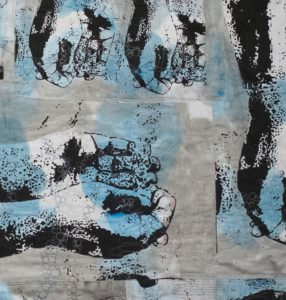 Wash Your Hands
(detail)
$2000
41″ x 52″
2019
Measure
(detail)
$1,500
45″ x 44″
2019

Pot Rack
(detail)
$1,850
52″ x 52″
2019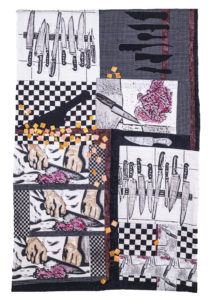 Knife Skills
$1,500
42″ x 48″
2019

Stove Top
$1,500
42″ x 40″
2019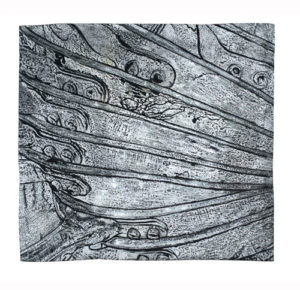 Sauté Pans
$1,500
40″ x 35″
2019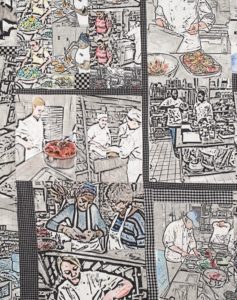 Portrait of a Chef
(detail)
$2,500
72″ x 55″
2019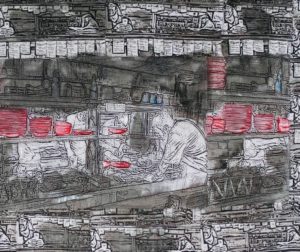 Tickets in the Window
(detail)
$1000
44″ x 39″
2019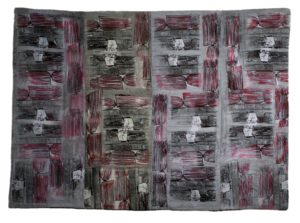 No Celebrity I
$1,200
49″ x 39″
2019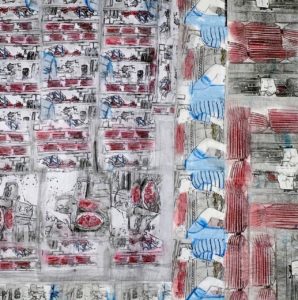 No Celebrity II
(detail)
$1,900
50″ x 59″
2019

Saucing the Plate
$1,300
39″ x 31″
2019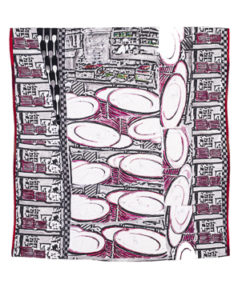 Plate Up
$750
24″ x 32″
2019

Polishing Flatware Forks
(detail)
$1,250
42″ x 39″
2019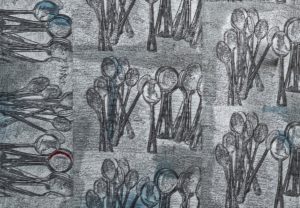 Polishing Flatware Spoons
(detail)
$1,250
42″ x 39″
2019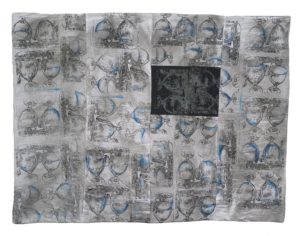 Water Glasses
$1,250
44″ x 40″
2019
Table Setting
$800
32″ x 32″
2019

Checkerboard of Salads
$2,500
46″ x 50″
2019


Mini Stories: Cutting Board
$400
14″ x 17″
2019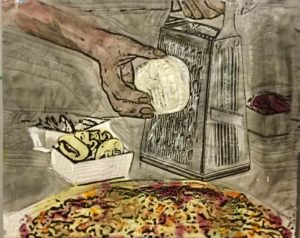 Mini Stories: Grater
$475
21″ x 17″
2019