Member Artist of the Month
Jane Knaus
April 1, 2022 - April 30, 2022
The Rehoboth Art League is pleased to announce Jane Knaus, as our featured artist for the month for April, 2022.
Jane Knaus has enjoyed painting for many years. She attended the University of California at Berkeley, studying painting with Elmer Bischoff, David Simpson, and Karl Kasten. She graduated with a degree in Fine Arts. Jane also attended The George Washington University, and has a degree in Publication Design. She was the creative director at Montgomery College in Rockville, Maryland for many years, as well as being a prize-winning graphic designer—winning national recognition for her publication and exhibit design work. Jane has shown her work in Europe and in the United States, and her work is in numerous private collections.  She has exhibited her fine art paintings extensively in the Southern Delaware region, including Gallery 50, Gallery 37, and is a member of the Rehoboth Art League and Southern Delaware Artists Group.
Jane recently completed a memoir called My True Colors, and will be the featured artist in the May 2022 Beach Life magazine.
She can be reached at janeknaus1@aol.com, knausjane@gmail.com or at 302-604-4518.
The works represented here are available for purchase by contacting Nick Serratore, Exhibitions Director  
*All work is mixed media on canvas.
Image: Spotted Sandpiper, by Jane Knaus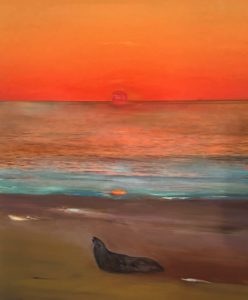 Catching the Sunrise
mixed media on canvas
$450
40″ x 30″

Glossy Ibis
mixed media on canvas
$350
18″ x 24″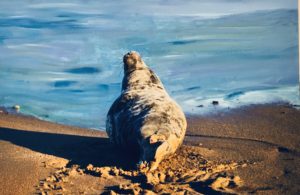 Greeting The Day
mixed media on canvas
$375
16″ x 24″

Heron in Flight
mixed media on canvas
$450
20″ x 30″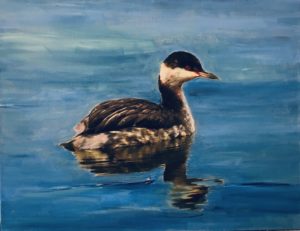 Horned Grebe
mixed media on canvas
$275
14″ x 18″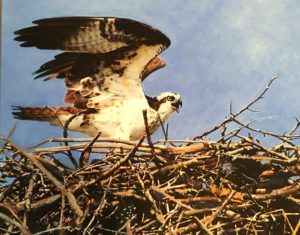 Osprey
mixed media on canvas
$350
16″ x 20″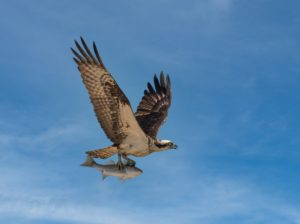 Osprey Catching Fish
mixed media on canvas
$300
18″ x 24″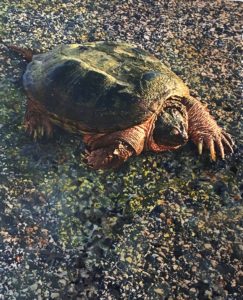 Snapping Turtle
mixed media on canvas
$350
20″ x 16″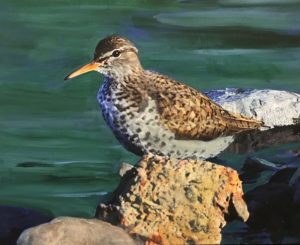 Spotted Sandpiper
mixed media on canvas
$350
16″ x 20″

My True Colors
A Memoir
by Jane Knaus
$30