Still Life
Juried Members' Showcase Exhibition
January 12, 2022 - April 3, 2022
Rehoboth Beach Municipal Building

Delivery of Work, shipped or dropped off: December 21, 2021 through January 9, 2022 to the Corkran Gallery, RAL
*Opening Reception: There will be no opening reception for  this event.
Pick-up of Unsold Works: Tuesday, April 5 through April 10, 2022 (at RAL Campus).
Theme:
"In a still life, there is no end to our looking, we look in and in…as long as we can stand to look, as long as we take pleasure in looking." – Poet Mark Doty
The still life represents the primary subject matter of beginning art lessons.  "Items" are the model and can range anywhere from three dimensional inanimate objects to the human form.  The still life captures the viewer to the art of looking and observing.
The Rehoboth Art League welcomes it's member's working in 2D to submit artwork based on the art of the still life.
Congratulations to the selected artists:
Kathy Brady, Jane Campbell, Jan Crooker, Bernadette Curtis, Bridget Dean-Pratt, Susan Frey, Sandra Gryzbowski, Neal Johnson, Susan Macintire, Marjorie Norris, Kraft Rompf, Len Shyles, Robert Bruce Weston, Frank Williams.
 Juror: John Schisler

Image Credit:  "Still Life," Silk Screen, by Les Lang.  From the Permanent Collection of the Rehoboth Art League.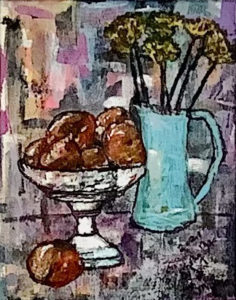 Scribble Scrabble Art #12
Mixed Media
$250
Kathy Brady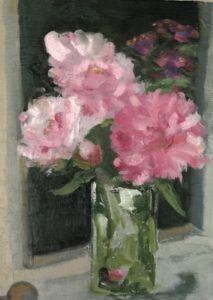 Peonies at the Door
Oil
$450 (SOLD)
Jane Campbell

Flowers, Fruit, Red Bottle
Oil
$275 (SOLD)
Jane Campbell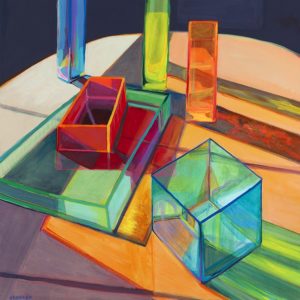 Crossed Shadows
Acrylic
$1600
Jan Crooker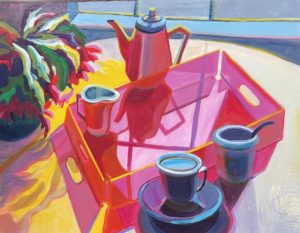 Sky Coffee
Acrylic
$1200
Jan Crooker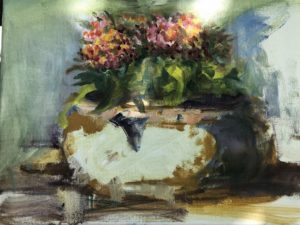 Marsh Garden Flower Bowl
Oil
$200
Bridget Dean-Pratt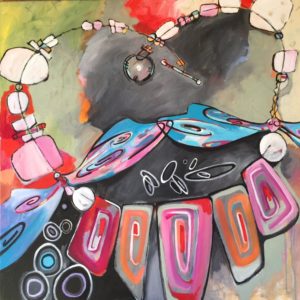 The Necklace
Acrylic
$900
Susan Frey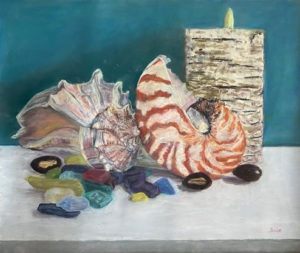 Almond Joy II
Pastel
$1600
Susan Macintire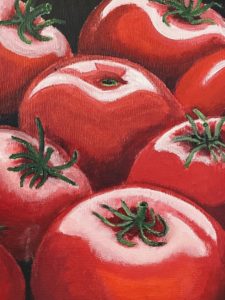 At the Farmer's market I
Acrylic
$400
Marjorie Norris

Still Life with Moon Vase
Archival Digital Print
$85
Kraft Rompf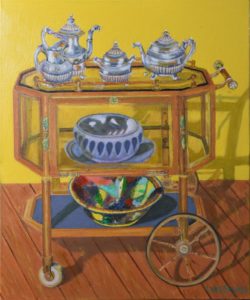 Tea Cart
Oil
$1000
Len Shyles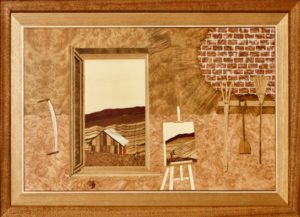 Tools for Harvest
Marquetry Inlay
$1350
Robert Bruce Weston

Empty Basket
Egg Tempera
$3200
Frank Williams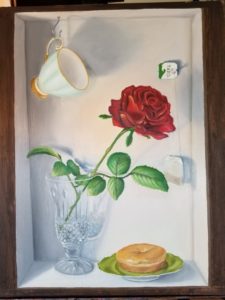 Tea Time…deconstructed
Oil
$2,000
Bernadette Curtis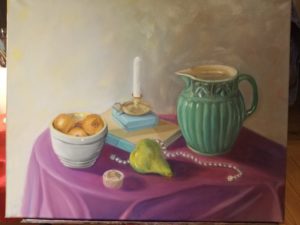 Pitcher and Pearls
Oil
$1,200
Bernadette Curtis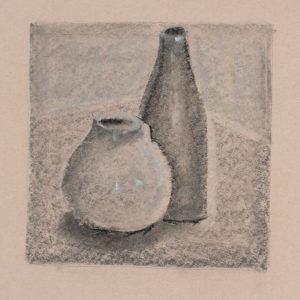 Two Vases
Pastel
$850
Neal Johnson