Cottage Tour
July 13 & 14, 2021
Due to ongoing health and safety concerns, the Rehoboth Art League has made the difficult decision to postpone the 71st Annual Cottage Tour until July 13 & 14, 2021. The Cottage Tour Committee has worked tirelessly to vet and secure a very special selection of homes in the Rehoboth Beach area, and we look forward to presenting a full Tour in 2021. The homes on this event's two-day self-paced tour always have very different landscapes, interior and architectural designs, ranging from historically significant to contemporary and eco-friendly. Some homes have quite an evolving history and many homeowners showcase memories, artwork, and collections in creative ways. The Art League's Historic Peter Marsh Homestead will again be featured on the Tour, with the building's collection of antique furniture and collectibles housed amidst innovative artwork.  
Homes on the 2021 Tour
We are pleased to share with you this year's amazing selection of homes for the Cottage Tour. The tour is self-paced and the Tour's ticket and program book features original artwork of each home and includes addresses, home descriptions, and driving instructions.

Home No. 1
10 Queens Court
Rehoboth Beach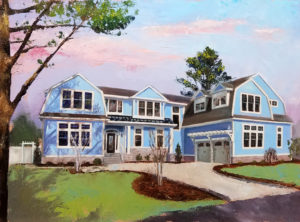 Home No. 2
134 Kingsbridge
Rehoboth Beach Yacht and Country Club
Home No. 3
27 Kent Street
Rehoboth Beach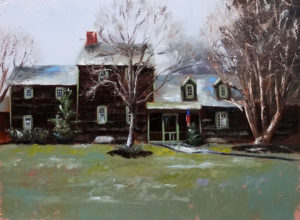 Home No. 4
The Peter Marsh Homestead
12 Dodds Lane, Rehoboth Beach
Home No. 5
20 Holly Road
North Shores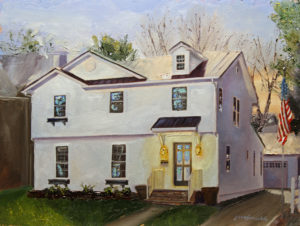 Home No. 6
108 Rodney Street
Rehoboth Beach
Home No. 7
1004 Scarborough Ext.
Rehoboth Beach
Cottage Tour Artist 2021
John Schisler is an award winning artist living in Delaware. His style can be considered Classical to Contemporary Realism.  His paintings have been juried into many local and national exhibitions including Oil Painters of America, National Oil & Acrylic Painter's Society, and International Guild of Realism.  He is a signature member of NOAPS. He has appeared in American Art Collector's Artist Focus and his artwork has been on the cover of Attraction Magazine and Dan's Papers.  John's paintings are realistic, colorful, and fun.
Ticket Sales
The ticket for the tour is a commemorative program booklet with an image and description of each home on the tour. Tickets are $35 per person (appropriate for ages 13 and above). Tickets for the 2021 Cottage Tour will available in coming months.  
Transportation
Parking is very limited at several of the house locations for our 2021 Cottage Tour. We recommend carpooling with friends to reduce the amount of traffic for neighborhoods with a Tour home on the route.
Supporting Organizations
The Cottage Tour would not be possible without the devoted partnership of several local nonprofit organizations, who coordinate volunteer teams to assist with staffing the houses during this event and providing patrons with detailed information about the art and architecture embodied at each location. We thank our partner organizations that will make our 71st Annual Cottage Tour possible.
Sponsors
We are grateful to this year's Cottage Tour sponsors: