Gallery Talks
The Rehoboth Art League hosts Gallery Talks as a free opportunity for the public to delve deeper into the arts and humanities content of our exhibitions. A wide range of presenters—including exhibition judges, jurors, art historians, and artists themselves—provide unique perspectives on fine arts, their historical contexts, and how the arts contribute to the human experience.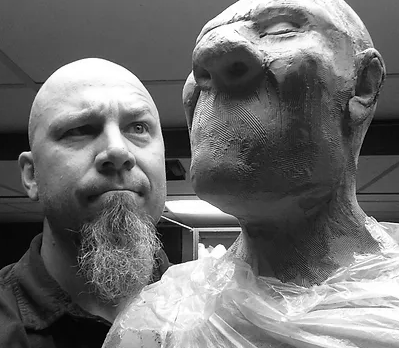 From the Awards Judge
with Richard Holt
Saturday, June 10, 2023 (10am)
Join the Rehoboth Art League for a conversation with Richard Holt, awards judge of our 50th Annual Members' Fine Craft Exhibition, which is on display from June 9 through July 16, 2023. Holt will discuss his selection of the award winners and other notable pieces from the exhibition.
A resident of Baltimore for over 30 years, Richard Holt is chair of the ceramics department at Towson University and co-creator of Claymonster Pottery in Baltimore, Maryland. He has also taught at The Potter's Guild and Baltimore Clayworks. For 10 years he worked at Clayworks Supplies where he continues to consult with artists and schools using automatic kilns in need of instruction and troubleshooting kiln issues. Community engagement is a big focus which includes empty bowls projects, community firings with local colleges and any project where students and community can come together. Rich exhibits his sculptures in galleries and sells his pottery line with his wife through various craft shows and web sales. He published a workbook guide for beginners with Kendall Hunt publishing company in 2013, specifically designed to accompany students at Towson University.
Rich's personal work is a result of his mentor Bob Pitman who was instrumental in fostering his passion for ceramics. Early influences are Hans Coper, Robert Arneson, Peter Voulkos, Jack Troy and Ian Gregory. Rich puts his work in to two categories. Work for exhibition that includes figurative forms that are wheel thrown and altered and the Claymonster Pottery line which allows him to stay a kid forever.
From the Awards Judge
with Michael Kalmbach
Saturday, July 22, 2023 (10am)
Join the Rehoboth Art League for a conversation with Michael Kalmbach, awards judge of our 85th Annual Members' Fine Art Exhibition, which is on display from July 21 through August 20, 2023. Kalmbach will discuss his selection of the award winners and other notable pieces from the exhibition.
Michael Kalmbach received his MFA at the University of Delaware in 2008. Shortly after graduation he accepted a position at the Delaware College of Art & Design, and founded the New Wilmington Art Association, an artist collective that was active from August 2008 to April 2013. This work led to Michael's involvement with the Chris White Community Development Corporation, which developed the 23-unit artist live/work space, Shipley Lofts. Kalmbach served the CWCDC as Board Chairman from 2013-2016. In June 2011, he accepted a contract with the State's Division of Substance Abuse and Mental Health to develop and direct a peer-run art space. The Creative Vision Factory has been open since December of 2011, and fosters the creative potential of individuals on the behavioral health spectrum in a studio art environment that cultivates integration with the community through a program of exhibitions, workshops, and communal workspace.
During his time on the Delaware State Arts Council, Kalmbach led the successful initiative to include Hip Hop as a funding category of the Delaware Division of the Arts' Individual Artist Fellowship program. He is the recipient of several awards, including the 2010 Governor's Awards for the Arts' Peggy Amsterdam Award for Outstanding Achievement, the 2012 League of Women Voters of New Castle County's Carrie Chapman Catt Award, and a 2017 University of Delaware College of Arts & Sciences Alumni Achievement Award. Michael maintains his painting practice and has exhibited his work in venues throughout the Mid-Atlantic, including the Delaware Art Museum, the Delaware Contemporary, the Biggs Museum of American Art, and UnSmoke Systems in Pittsburgh, Pennsylvania.