Member Artist of the Month
Kathy Buschi
February 1, 2022 - February 28, 2022
The Rehoboth Art League is pleased to announce Kathy Buschi, as our featured artist for the month for February, 2022.
Kathy is a self-taught artist from Milton, Delaware. She started painting in 1979, after her husband, Brendan, bought her an oil paint set for Christmas. At that time, they lived on Long Island in NY where Kathy was born and raised.
Kathy paints mainly using  acrylic paints on Masonite. Her family and pets, past and present, can be found in many of her works. Her red-haired daughter, Jessica, with the 2 yellow Labrador Retrievers Jessica grew up with, have become Kathy's trademark.  Kathy's initially painted New England folk art scenes while living in New Hampshire. She lived in New Hampshire for 10 years. In 1996, Kathy moved to Magnolia, Delaware with her family. In 2013, Kathy and Brendan moved to Milton where they designed and built their home and art gallery. Kathy now paints mostly Delaware scenes, especially of the Lewes and Rehoboth area. In 1999, she started having prints produced of her work. She exhibits at St Peter's Church Art Show and the Mid Atlantic Sea Glass And Coastal Arts Festival in Lewes every year. She is also the Artist of the Month at Nassau Valley Vineyards every September.
Kathy's work has become well known in Delaware. People from all over the world have purchased her artwork. She has won awards from Vermont to Maryland, but her greatest reward is when people who view her work tell her it makes them feel happy.
Check out her website at: www.BuschiArt.com
The works represented here are available for purchase by contacting Nick Serratore, Exhibitions Director  
Image: Boats on Lewes Canal, acrylic by Kathy Buschi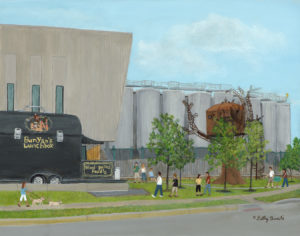 Dogfish Head Brewery
Acrylic
$825
16.5″ x 19.5″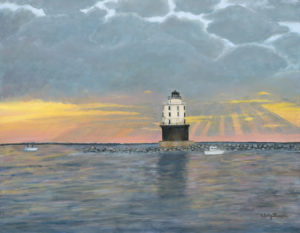 Lewes Sunset
Oil
$950
19.5″ x 23.5″

Lewes Yacht Club
Acrylic
$375
13.5″ x 15.5″

Milton Historical Society
Acrylic
$825
16.5″ x 19.5″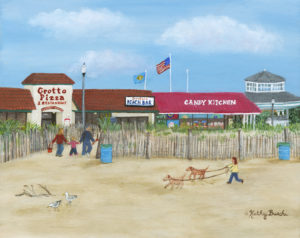 Pizza and Candy at Rehoboth Beach
Acrylic
$375
13.5″ x 15.5″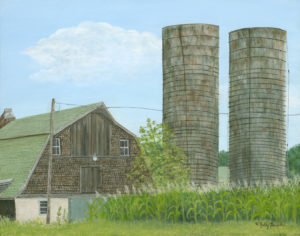 The Townsend Barn
Acrylic
$825
16.5″ x 19.5″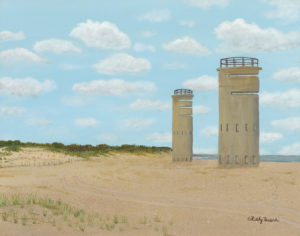 Towers at Rehoboth Beach
Acrylic
$825
16.5″ x 19.5″

Wild Ponies on the Beach
Acrylic
$1050
20″ x 32″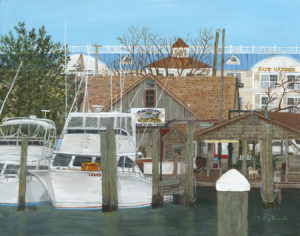 Boats on Lewes Canal
Acrylic
$825
16.5″ x 19.5″